Mick Jagger Plays a Scheming Art Dealer in His First Movie in 18 Years
The Burnt Orange Heresy premiered at the Venice Film Festival.
---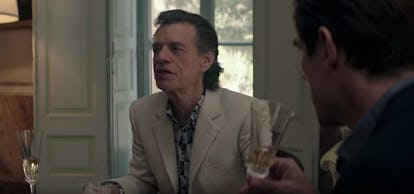 Mick Jagger has something of a tortured relationship with acting. In the late '60s, movie producers bet the Rolling Stones frontman might have crossover appeal. Though, despite warm reviews for Jagger's performances, his first two flicks were flops (Jagger himself claims he's never even seen one of them). In 1975, legend has it that Jagger wanted the role of Dr. Frank-N-Furter in Rocky Horror Picture Show but was turned down as Tim Curry had already secured the role. His efforts in acting have been intermittent and mixed ever since, and his last acting gig, The Man from Elysian Fields, was released almost 20 years ago.
Though, now, at the age of 76, Sir Mick has decided to give acting one more try in the art world thriller The Burnt Orange Heresy.
In the Giuseppe Capotondi-directed film, Jagger plays a blue chip art collector who is keeping a big secret on the edges of his Lake Cuomo estate: the eccentric and mysterious artist Jerome Debney, who is portrayed by Donald Sutherland as something like the art world's own J.D. Salinger, is living in a shack.
The problem for Jagger's character is that Debney is so secretive he won't even let Jagger get a peek at what he's been working on all these years.
So he hatches a plan to give an art critic played by Claes Bang access to Debney with one simple thing in request: he wants the critic to steal one of the artist's paintings for him.
With slicked-back hair, Jagger is well-suited for the role of a rich but eccentric art power player. Though, when it premiered at the Venice Film Festival earlier this year, it was star Bang and Elizabeth Debicki, who plays an American interloper who gets caught up in the scheme, who were showed in critical praise even as the film itself was met with mixed reviews. This may not be the full-out film success that has eluded Jagger his entire career, but it is good to see him on film again. The Burnt Orange Heresy will premiere in Los Angeles and New York on March 6th.