Rebel Yell
Fashion provocateur Miguel Adrover returns to the runway with a message worth hearing. Karin Nelson pays close attention.
---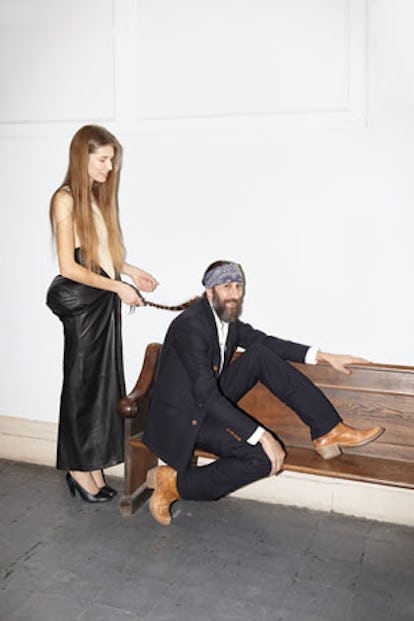 Miguel Adrover, looking gaunt and a bit gray, is attempting—at least by our count—his third comeback. "What can I do?" says the Spanish designer, rubbing a tired eye with the heel of his hand. "I need to express myself with clothes." He is seated in a dimly lit hallway of New York's Teatro Latea, a performance space on the Lower East Side where, more than a decade ago, he presented his first two collections. Assembled from salvaged materials (most memorably, Quentin Crisp's ­discarded mattress and a Burberry trenchcoat—the use of the latter ­resulting in legal action from the British label) and rife with social commentary, Adrover's elegant and expertly tailored pieces propelled his meteoric rise to fashion stardom. His equally sensational fall came soon thereafter, when, in the aftermath of September 11, he lost his financial backing and was forced to put the label on hold in 2004. Since then, Adrover, 46, has re-entered the fashion world in fits and starts—most recently, as a creative consultant to the German eco label ­Hessnatur. For his fall 2012 collection—the first under his own name in eight years—he returned to Teatro Latea, where it all started. "It felt humble and human to show it here," he says.
Adrover hasn't lost his instinct to provoke—but the man who put djellabas and head scarves on the runway two days before the Twin Towers fell may finally have timing on his side. Moved by last year's Arab Spring, he's presenting the new collection as a manifesto for change within the fashion industry. "People are too focused on the business side. And on the creative side, there is no more time to think," he says, voicing a concern shared by many, as the big fashion houses continue to burn through talent—and designers are compelled to ­deliver more collections per year. "It's not healthy, and it's not ­sustainable. So I tried to find a different way of doing things."
The infamous fall 2000 Burberry trench; a Middle-east inspired look from spring 2002; reworked fashion for fall 2012
The 44 looks were made entirely by hand with materials culled from his home in Majorca—Kurdish scarves, a Cuban flag, his great-­grandmother's nightgown, a black leather coat that was a birthday present from Alexander McQueen. "I didn't wear it much," Adrover says, shrugging, "so I decided to give it a new life." To bring order to it all, he summoned a fantasy: If a plane flying over the remote Amazon jungle were to drop its luggage, how would indigenous people put the clothing together upon finding it? A camel-hair blazer was cleverly reconfigured as a pencil skirt; a floral bedsheet became an elegant gown.
His plan is to produce the pieces by special order using materials provided by the client. ("I will tell you, 'You need to give me two jackets and a tablecloth.' ") It's not the most viable business model, but that's beside the point. "I want to show people what I have inside," he says. "I'm not looking to build an empire; I'm just embracing whatever is alive and good." He's not the only one: His latest renaissance has been met with plenty of enthusiasm—and sales. "Someone offered to buy the whole collection!" Adrover says with a broad smile. "Frankly, I was just happy people understood it."
Hair by Adrian Clark at The Wall Group; makeup by Ralph Siciliano for Chanel Beaute at D + V Management; Model: Georgina Ordinas; Photography Assistant: Frank Muller; Runway: MCV Photo (2)