Out and About in 5Vie
Highlights from Milan's hottest new design district.
---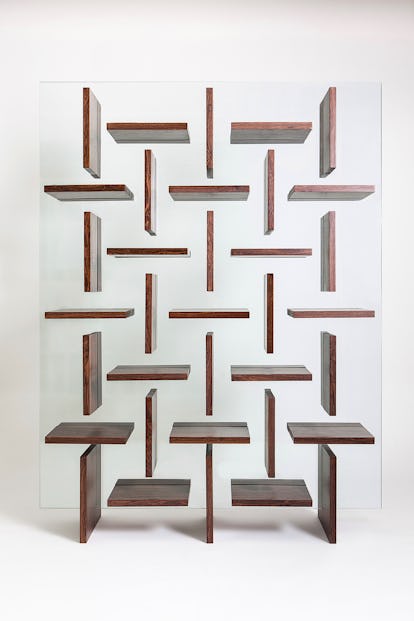 The new design season kicked off in Milan with more visitors than ever attending Salone del Mobile, and also more satellite districts popping up around the city to vie for their attention. The Tortona district, once the renegade is now an established neighborhood for industrial design and winners of corporate-sponsored design contests; Ventura Lambrate, Milan's gallery district, is the place to go for fascinating and even controversial surveys of student work from international design schools; the chic Brera offered everything from art installations in cloisters to massive furniture showrooms; and San Gregorio Docet proved itself a detour worth making thanks to Wallpaper Handmade and L'Ecclettico.
Some of the best new design was to be found in Milan's oldest neighborhood, recently branded the 5Vie, an ancient crossing of narrow, winding streets, where artisans ply age-old crafts and young designers are setting up a creative hub. Now in its second year on the Salone itinerary, 5Vie hosted a variety of exhibitions from Max Lamb's material explorations of chairs to Seletti's bumper cars installed in front of Milan's stock exchange.
BDDW, which opened a gallery space last year on Via Santa Marta, 5Vie's central artery, showcased Tyler Hays's bronze and hand-painted canvas sling chairs in its windows. Across the street, New York design studio Apparatus presented a range of shrine-like objects with the aura of a futuristic (and aesthetically pleasing) cult, including a curved brass lamp incorporating locks of pale horsehair. Nicolas Bellavance-Lecompte and Jakub Zak of Oeuffice inaugurated their own showroom on that street, with their monumental Kapital Dorik table made from blocks of carved Fior di Pesca marble.
Nearby in the 16th-century Pinacoteca Ambrosiana, home to Leonardo's library of sketchbooks, Yoox, the online discount behemoth, took over a former crypt to debut a series of commissions by Milan-based designers and artisans, among them Valentina Cameranesi's playful geometric plexiglas containers. A maze of exhibits in the Palazzo Litta led to new contemporary design from Brazil, including Alva's wondrous Cross shelf, whose wooden slabs suspended in a sheet of glass revealed the gilded palace walls behind.
Residenze Litta, an alley of long-shuttered opulent homes, featured a series of shows throughout its newly renovated townhouses. The Carrara Design Factory invited contemporary designers to reimagine Italy's famous marble, the results of which included waterjet-cut table bases that reveal their shape when struck with a hammer and sculptural speakers. Gio Tirotto's fanciful glass globe was one of many quirky limited edition pieces to be found at the Roman gallery SecondoMe, which also hosted From–To, a project directed by Martino Gamper. The collaboration between international designers and Venetian artisans encouraged novel approaches to timeworn materials as in Oscar Wanless's floor lamp, a stalk of metal decked with discs of illuminated marble.
Photos: Out and About in 5Vie
Alva Cross Shelf. Photo by Solange Souza.
Alva Cross Shelf. Photo by Studio Tertulia.
Apparatus Horsehair Light. Photo by Andrea Wyner.
BDDW Sling Chair. Photo courtesy of the brand.
Carrara Design Factory. Photo courtesy of PS.
Oscar Wanless. Photo by Angus Mills.
Oeuffice. Photo by Andrea Wyner.
Secondo Me Tirotto. Photo courtesy of Secondo Me.
Valentina Cameranesi. Photo by Luca Massaro.