Milan Design Week 2017: The Top 10 Very Best in Show
Everything you missed from Salone del Mobile in Milan, from tables that double as social commentary to windows of pure whimsy.
---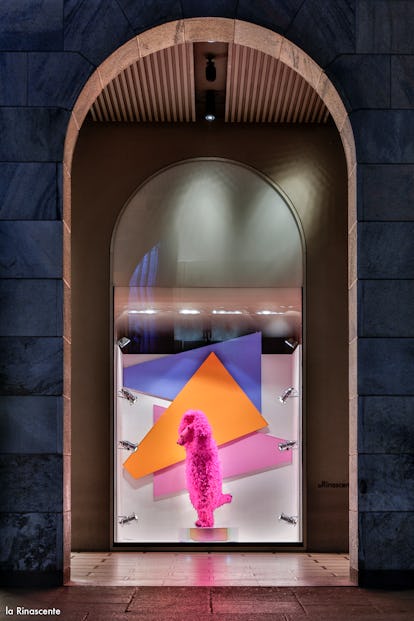 Marco Beck Peccoz
Visitors to the annual Milan furniture fair are faced with the same dilemma each year: how to be in 10 places at once. Not only are the fairgrounds on the outskirts of town filled with the latest in furniture and lighting, but various exhibitions in town highlight the work of younger and emerging designers.
The Italian studio Formafantasma applied their research-oriented approach to the topic of light in "Foundation," a meditative exhibition that is a collaboration with the Rome gallery Giustini Stagetti. The objects in the show were conceived as three-dimensional "sketches" that trace the designers' "investigation into the components of light—reflection, shadow, color, space—and the use of optics, mirrors and glass to shape it." These experiments were also the starting point for Formafantasma's first industrially produced objects, a series of lights for the Italian company Flos.
In the luxe surroundings of the 17th-century Palazzo Crespi, Atelier Swarovski is showing its newest home collection, featuring objects by Barbara Barry, Greg Lynn, Tomás Alonso, Studio Brynjar & Veronika, Andre Kikoski, and Aldo Bakker, all of whom used the company's crystals in varied and imaginative ways.
When real estate development drove the British designer Paul Cocksedge from his longtime London studio, he took part of the studio with him, drilling numerous core samples from the floor. These became the basis for "EXCATION: Evicted," a project with the New York gallery Friedman Benda, in collaboration with Beatrice Trussardi. These cylindrical elements serve as both furniture components and a commentary on the the "sociopolitical and cultural upheavals" that are increasingly affecting artists in urban areas.
The issue of how to re-use tons of clothing, bedsheets, and other fabric-based items we throw out each year is highlighted in the thought-provoking exhibition "Really: designing for circularity," curated by Jane Withers and Njusja de Gier. Really is a company founded by three alumni of the innovative Danish textile manufacturer Kvadrat (which is now a co-owner). They developed a rigid, high-density material called Solid Textile Board, made of up-cycled cotton and wool, which is presented in a series of furniture pieces by the British designer Max Lamb, and in a book by the Dutch designer Christien Meindertsma.
Every other year, the furniture fair hosts Euroluce, a vast lighting show, and one of the highlights, as always, was provided by Flos. In addition to new lights by Formafantasma, Ronan and Erwan Bouroullec, Konstantin Grcic and Barber & Osgerby, among others, Flos showed Arrangements, a series of modular, sculptural, jewelry-inspired new pieces by the London-based designer Michael Anastassiades.
Another illuminating experience awaits visitors to Milan's Cinque Vie neighborhood, where the New York-based company Apparatus's elegantly bohemian installation shows off its new Lantern pendant lights and Segment tables, with their cast glass bases.
Calico Wallpaper's exhibition "Imagined Landscape" offers a series of wall murals by cutting-edge designers, like BCXSY's delicate Microcosmos, Ana Kras's Mira & Milos Collection, Snarkitecture's Topographies Collection, and the whimsical Woodlands, Fields, Moors Collection by Faye Toogood, the British designer whose work seems to be all over Milan this year.
Hermès presented its new home collections, under the creative direction of Charlotte Macaux Perelman and Alexis Fabry, in a structure that evokes the sunny simplicity of Greek island houses. Among the highlights are a series of spectacular quilts and sumptuous cashmere blankets, elegantly simple furniture by the Portuguese architect Alvara Siza, and a cast bronze coffee table by Barber & Osgerby.
And then, to the actual furniture fair itself. The Italian company Glas Italia's booth was a standout, showing new pieces by the prolific Japanese studio Nendo, the legendary Italian Mario Bellini, the New York and Toronto-based Yabu Pushelberg, and Ronan and Erwan Bouroullec, whose Nesting series of high and low tables, made from clear and colored Murano glass, is especially alluring.
Finally, the windows of the department store La Rinascente offer a moment of whimsy, with "I am tired of eating fish," a site-specific project by the crowd-pleasing artist Paola Pivi, and curated by Cloe Piccoli, that features a series of figures of bears in improbable settings, including one that is especially appropriate for design week: A large white bear, lounging with its feet up on a desk, titled "I am a professional bear."