Miles Teller: Spectacular, Now
The actor discusses co-starring with Shailene Woodley, car accidents, and what's next.
---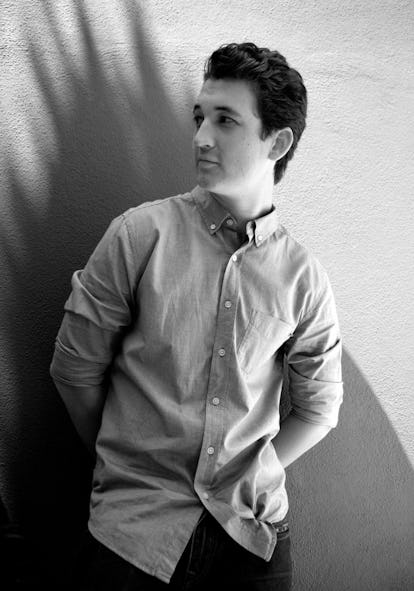 It is hard not to ponder the murky overlapping of life and art when considering the burgeoning career of actor Miles Teller. In the 2011 remake of Footloose, the 26 year-old received critical acclaim for his performance as Willard, a role he'd also acted in his first high school play. In 2010's Rabbit Hole, he played a man who kills Nicole Kidman and Aaron Eckhart's young son in a car accident. Two years prior, he'd survived his own horrific car trauma in which he was thrown 30 feet from a flipping vehicle going 80 miles an hour. And in his latest movie, The Spectacular Now, opening August 2, he stars as the happy-go-lucky, alcoholic high school senior Sutter, who meets his girlfriend Aimee (Shailene Woodley) when she discovers him post-drunken crash.
"Somebody tweeted at me after seeing Rabbit Hole and The Spectacular Now 'I've now come to the conclusion I never want to ride in a car with Miles Teller,'" says the baby-faced Teller, who grew up mainly in Citrus County, FL where he began acting at 16, and went on to the Tisch School of the Arts at New York University.
At its heart, the Sundance Film Festival hit is a tale of mismatched love (Aimee is an anti-social academic; Sutter the quintessential popular kid) and painful truths, told without the typical varnish lavished on adolescent growing pain, including an achingly real love scene between Woodley and Teller.
He will go from, in his words, "delicate hands to fists of fury," opposite the actress as the pair is also part of the newest YA book-turned-blockbuster franchise, Divergent, slated for release next spring. The movie is set in a dystopian future in which humans are divided into five factions based on their emotional and intellectual acumen. Teller is Peter, the story's token villain who has a nasty fight scene with Woodley.
"It's tough to watch myself in a comedy or a drama or any of that—nobody likes the sound of their own voice, let alone having your face added to that," says Teller. "But to watch yourself in action is pretty cool: running and jumping on a train and beating someone up. I can watch that all day."