Miley Cyrus Deleted All Her Instagram Posts, Including Those With Liam Hemsworth
And fans are freaking out.
---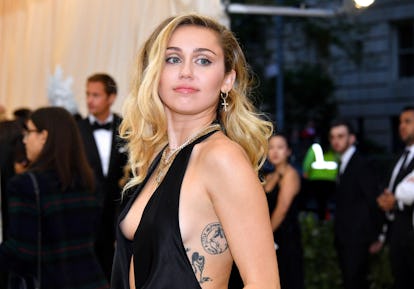 Dia Dipasupil
Those looking to relive some of the best moments on Instagram from Miley Cyrus are in for an unfortunate surprise. As of Friday morning, , the pop star has deleted every post on her Instagram, leaving many to wonder what the deleting spree could mean.
Fans on social media began noticing that pictures were disappearing from her feed late Thursday evening, with some watching in real time as the posts began to leave her page. There's no official word from Cyrus on the Instagram cleanse, but most fans believe it may mean that new music is imminent. Although not confirmed by Miley herself, US Weekly did previously report that the singer had already started working on a new project
"I'm sad actually that she is deleting pics but IM SO RUCKIMG EXCITED FOR THE NEW ERA TO BEGIN," one user excitedly tweeted. Another fan also expressed their support of the singer, writing, "Looks like @MileyCyrus is deleting some old posts on insta.. While I loved how her Instagram account showed the many phases of her different eras, I'm so excited to see what she has in store for us on social!"
The singer's decision to delete all the photos on her Instagram also reminded fans of similar actions taken by musicians including Taylor Swift. In the past, other singers including Sabrina Carpenter and Zayn Malik have also deleted posts on their Instagram in advance of a new album.
Again, there's no word yet from Cyrus herself regarding the deletion, so theories regarding the decision remain just speculation at this point. But, with the star making frequent and memorable posts via the social media platform, it's likely that we will hear from her again soon.