Miley Goes Brow-less
In case you missed it, here are the best style stories from the week.
---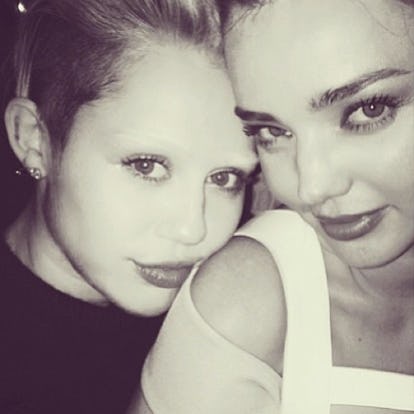 Antnoff, Rachel Denounces sexy selfies in the same interview where she admits to shopping at Spencer's Gifts. Consistent.
Armani, Giorgio Plans to save the Italian fashion industry. If any one can…
Black Friday Has inspired those fevered individuals looking for discounted technology to camp outside of a Best Buy. A week early.
Cyrus, Miley Bleached her brows. Proved it is possible for her to look crazier than she did last week.
Demeulemeester, Ann Exits her eponymous label.
Jay Z Designed embellished leather boxing shorts that cost $2,590 for Barneys in an attempt to sway the conversation against their controversial collaboration.
Jenner, Kendall Revealed both her breasts and the fact that she hasn't read Instagram's strict no-nudity policy simultaneously. Turned 18.
Jewelry Can now be implanted onto a very stylish eyeball. Ouch.
Kerr, Miranda Denies photoshopping the images she posts of herself on Instagram—even though all evidence is to the contrary.
Knowles, Solange Will design super cute, mixed-print sneakers for Puma, naturally.
Lawrence, Jennifer Ditched her slip at the LA premiere of The Hunger Games: Catching Fire. Must have coordinated with her undergarment-less co-star Jena Malone.
Levine, Adam Named People magazine's Sexiest Man Alive. At least half of the Victoria's Secret Angels agree with this declaration.
Maier, Tomas Bottega Veneta's creative director is getting funding to grow his eponymous line.
Newton, Helmut Shot the 2014 Pirelli calendar, despite having died in 2004.
Olsen, Ashley Was elected to the CFDA board, sans Mary Kate. Sorry sister.
Perry, Katy Reveals that her style does have limits: W's November issue cover star refuses to wear any outfit that shows her private parts. Really, she's a pragmatist.
Phan, Michelle Youtube's star beauty vlogger will make $5 million this year. One word: Damn.
Testino, Mario Brought his exhibition of photographs of Peruvian women to New York from—where else?—Peru.
Werbowy, Daria Replacing Miranda Kerr as the face of Mango. Has not yet been caught photoshopping her Instagram photos.
West, Kanye Gave a lecture on design at Harvard in hopes of securing North's spot.