Miley Cyrus Lets It All Hang Out
In case you missed them, here are the top style news stories of the week.
---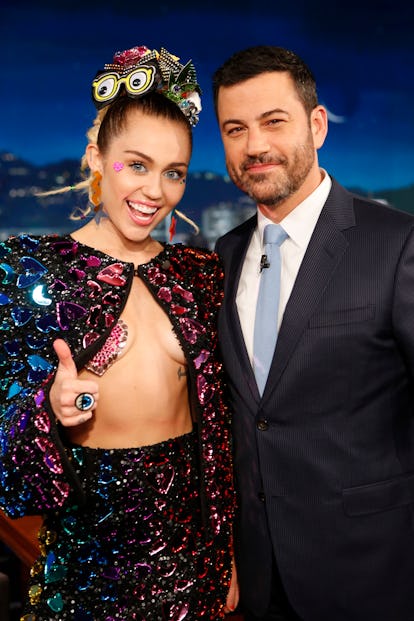 & Other Stories The Swedish brand revealed a collaboration with semi-unknown stylist. Taylor Swift was already spoken for.
Attal, Alice Charlotte Gainsbourg's daughter, and Jane Birkin's granddaughter, makes her modeling debut in a Comptoir des Cotonniers campaign. It's about time.
Banderas, Antonio The actor has enrolled at London's Central Saint Martins in an attempt to usurp Kanye's status as fashion's favorite celeb designer.
Bundchen, Gisele Dances with male models in Stuart Weitzman's first commercial. What did you do this week?
Clooney, Amal Wowed in a gold mini dress in Ibiza. George Clooney wore jeans.
Cyrus, Miley Campaigned for nipples on Jimmy Kimmel Live. Made Paul McCartney uncomfortable. (My dad, too.)
Degeneres, Ellen Joined Taylor Swift on stage in a sparkly jumpsuit. Next week, Justin Bieber to don the same ensemble on the #1989 tour.
Depp, Lily-Rose Identified as queer in new Instagram post. Just don't call it a phase.
J. Crew May be reverting to its preppy roots. Because fashion forward is so 2013.
Jacobs, Marc Issues a very strict dress code for his Fashion Week party, that may or may not allow T-shirts he designed inspired by his nude Insta-incident.
Kardashian, Kim The social media queen now has the most followers of anyone on Instagram. Sorry, Bey.
Kloss, Karlie Stars in Marc Fisher's digitally savvy, charitable campaign. Kills three birds with one stone.
Moss, Kate Covers the debut issue of L'Officiel Spain… with a photo from her high school yearbook. Aw.
Nadal, Rafael The tennis player is the new face and bod of Tommy Hilfiger underwear.
Oprah Opened up a store, so that you can buy all of her favorite things.
Schiffer, Claudia Designed a cashmere collection for TSE. Again, Taylor Swift's design skills were spoken for.
Stewart, Kristen To star in Karl Lagerfeld's latest Chanel film. Cements her status as muse.
Wang, Alexander Is re-releasing his 10 most popular looks in celebration of the brand's 10th anniversary. Yes, you can pre-order.