Miley Cyrus Was in a Good "Bad Mood" on Saturday Night Live
Miley did not come to play.
---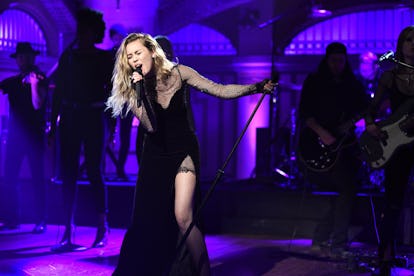 Will Heath/NBC/NBCU Photo Bank via Getty Images
On Saturday night's episode of Saturday Night Live, musical guest Miley Cyrus was game for sketches, poking fun at her relationship with Liam Hemsworth and appearing in an adult diaper for a rap video, but when it came time to sing, she was not playing around. She sounded stellar singing "Bad Mood" off of her latest album, Younger Now. In a black slit dress with mesh accents (was anyone else reminded of a rock 'n' roll version of Angelina Jolie's Oscars "leg dress"?) and rings that accentuated her hand and finger tattoos, Cyrus belted out the tune, an ode to a relationship too passionate to last: "I wake up in a bad mood/I wake up in a bad mood/The glass ceiling's gotta break/All together, wanna hear ya say/I don't know how much more it can take."
Then again, the song might also be about how much of the country has felt every morning in the almost-a-year since the election. We always wake up in a bad mood. We can never fall asleep.
Cyrus's vocals are impressive and rough-edged, the closest to rocker Miley we've ever gotten. And while Cyrus is often giving out a "party on the beach" vibe, here, the effort shows (in a good way). She's trying. She did not come to play.
Cyrus does have a history of doing The Most on SNL. In the past, she's played a raunchy Michelle Bachmann trying to shut down the government in a "We Can't Stop" parody "We Did Stop" and begged for Kyle Mooney's hand in marriage.
Next week the musical guest will again be a former teen star trying on a tougher persona: Taylor Swift. Tay, watch Miley's performance and take a note. You've got your work cut out for you. The bar has been set.
Related: Miley Cyrus Says Playing Hannah Montana Did "Extreme Damage in My Psyche"
MTV VMAs: See the 20 Most Outrageous Red Carpet Looks Of All Time
Miley Cyrus arrives to the 2015 MTV Video Music Awards at Microsoft Theater on August 30, 2015 in Los Angeles, California.

C Flanigan
Britney Spears arrives at the 2002 MTV Video Music Awards at Radio City Music Hall in New York City. August 29, 2002.

Evan Agostini
Tommy Lee and Pamela Anderson arrive at the 1999 MTV Music Video Awards held at the Metropolitan Opera House, Lincoln Center in New York City on September 9, 1999.

Frank Micelotta Archive
Christina Aguilera at the Radio City Music Hall in New York City, New York.

Jim Spellman
Lil' Kim during The 1999 MTV Video Music Awards at Metropolitan Opera House in New York City, New York, United States.

Ron Galella
Destiny's Child during 2001 MTV Video Music Awards at The Metropolitan Opera House at Lincoln Center in New York City, New York,

KMazur
Jennifer Lopez during 2004 MTV Video Music Awards – Arrivals at American Airlines Arena in Miami, Florida, United States.

SGranitz
Carmen Electra posing outdoors on a red carpet in a long black sheath dress with cutaway sides at the MTV Video Music Awards, Radio City Music Hall, New York City.

Victor Malafronte
Fergie of Black Eyed Peas during 2006 MTV Video Music Awards at Radio City Music Hall in New York City, New York, United States.

Jason Merritt
Rose McGowan and Marilyn Manson during 15th Annual MTV Video Music Awards at Gibson Amphitheater in Los Angeles, California.

Ron Galella
Nicki Minaj arrives at the The 28th Annual MTV Video Music Awards at Nokia Theatre L.A. LIVE on August 28, 2011 in Los Angeles, California.

Steve Granitz
Avril Lavigne and Kelly Osbourne during 2003 MTV Video Music Awards at Radio City Music Hall in New York City, New York, United States.

Jim Spellman
Macy Gray during 2001 MTV Video Music Awards at The Metropolitan Opera House at Lincoln Center in New York City, New York, United States.

RJ Capak
Jessie J arrives at the 2011 MTV Video Music Awards at the Nokia Theatre L.A. Live on August 28, 2011 in Los Angeles, CA.

Gregg DeGuire
Gwen Stefani attends the 15th Annual MTV Video Music Awards on September 10, 1998 at Universal Amphitheatre in Universal City, California.

Ron Galella
Lady Gaga poses in the press room at the 2010 MTV Video Music Awards at the Nokia Theatre on September 13, 2010 in Los Angeles, CA.

Gregg DeGuire
Charli XCX attends the 2014 MTV Video Music Awards at The Forum on August 24, 2014 in Inglewood, California.

Steve Granitz
Riff Raff and Katy Perry arrives at the 2014 MTV Video Music Awards at The Forum on August 24, 2014 in Inglewood, California.

Steve Granitz
Blac Chyna and Amber Rose arrive at the 2015 MTV Video Music Awards at Microsoft Theater on August 30, 2015 in Los Angeles, California.

Jeffrey Mayer
INGLEWOOD, CA – AUGUST 27: Jared Leto of Thirty Seconds to Mars attends the 2017 MTV Video Music Awards at The Forum on August 27, 2017 in Inglewood, California. (Photo by Frazer Harrison/Getty Images)

Frazer Harrison