Miley Cyrus and Stevie Nicks Hopped on a Track Together For "Edge of Midnight"
Miley Cyrus and Stevie Nicks combined vocals from "Midnight Sky" and "Edge of Seventeen" to yield a duet called "Edge of Midnight."
---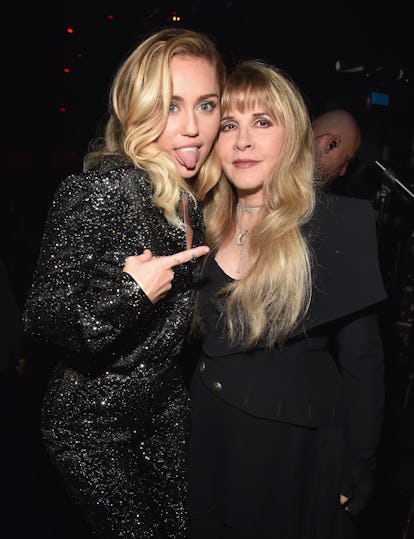 Getty Images.
If we focus on the positives of this week, there's at least one thing to be cheerful about: a duet between Miley Cyrus and Stevie Nicks.
Many comparisons have been made between the raspy vocals from Cyrus and Nicks, and plenty of fan mashups of songs by both musicians have populated the internet. It's a collaboration that surprisingly has never happened before, but now, the two have finally hopped on the same track together to remix "Midnight Sky" by Cyrus and incorporate the iconic riff from "Edge of Seventeen" by Nicks, yielding "Edge of Midnight."
The original "Midnight Sky" already samples some of "Edge of Seventeen." Cyrus received Nicks's blessing before she released the song, along with a note that said, "You can borrow from me anytime."
In an Instagram post announcing the collaboration, Nicks called the duet with Cyrus "magical" and noted that she "loved singing with her" for the remix. Cyrus posted the same image on Instagram, noting that Nicks "has always been my idol & an inspiration. It's an honor to now call her my friend and collaborator."
Quarantine has caused Nicks to re-enter the zeitgeist after her song "Dreams" with Fleetwood Mac went viral in a soothing TikTok last month. Hopefully the release of this duet will serve as a similar source of relief for those seeking distraction from the never-ending 2020 Presidential Election.
Cyrus's image has gone through a few hoops (some eras more confusing than others) but seems to have finally settled. The glam-rock revamp suits her (and her mullet) as fans get ready for her forthcoming album Plastic Hearts, which will include tracks like "Midnight Sky" as well as her live covers of Blondie's "Heart of Glass" and "Zombie" by The Cranberries.
Related: Miley Cyrus's 2020 VMAs Performance Was a "Wrecking Ball" Throwback