Miley Cyrus's Infamous VMAs Performance Made Her Want to Become an Activist
Twerking works in mysterious ways.
---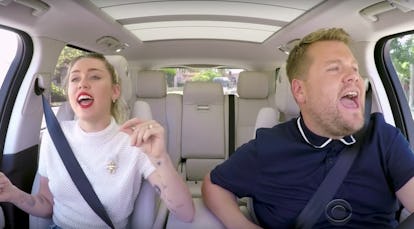 YouTube/The Late Late Show with James Corden
You never know what a nationally televised twerking session can do to the psyche.
Take Miley Cyrus's "Blurred Lines" performance with Robin Thicke at the 2013 MTV Video Music Awards, for instance. You know the one. She wiggled. She twerked. She grinded. A foam finger was somehow involved. It was…polarizing. Mostly it was divisive because many people criticized her of appropriating black hip hop culture. But while the performance might've changed people's opinions on Cyrus' wholesomeness, it was actually an epiphany for the singer for an entirely different reason: It made her want to become an activist.
"I think the first VMAs in 2013, the twerking Robin [Thicke] VMAs, led me to being the activist that I am now," she explained to James Corden while filming his popular Late Late Show Carpool Karaoke segment. "Because I realized if that many people were going to talk about something that I did or something that I do, than I should make it a good thing. I should make it something that could change someone's lives rather than be a controversial conversation that does nothing [more] than become a fun Halloween costume for people." Since then, Cyrus has founded the Happy Hippie Foundation, which assists LGBTQ communities and homeless youths in vulnerable communities. The year following that awards show, Cyrus sent a gay, homeless young man to accept her award for Video of the Year for "Wrecking Ball."
Ever in a reflective mood, Cyrus also discussed how she's changed her mind about how her past has influenced her future, in between some animated karaoke renditions of "The Climb" and "Wrecking Ball." Specifically, Cyrus discussed her Disney Channel past. "There was something when I stopped doing Hannah Montana, saying 'I'm not that, I want you to know who I really am!' But I love that was me and is me and is a part of me, and I think I've allowed that childhood self to shine through a little bit more, because I'm not trying to run away from it, I'm down to embrace it," she explained. "I think that's good for everyone. Everyone should embrace you they used to be, because it's made you who you are now."
Watch the Carpool Karaoke segment unfold, below:
Related: Miley Cyrus Gets Steamy for Planned Parenthood