Millie Bobby Brown Stars in a Preview of Raf Simons' Calvin Klein Debut
Calvin Klein's new chief creative director quietly dropped images from a new bespoke collection, Calvin Klein By Appointment, on Instagram, featuring top models Abbey Lee Kershaw and Jamie Bouchert, as well as 12-year-old actress Millie Bobby Brown.
---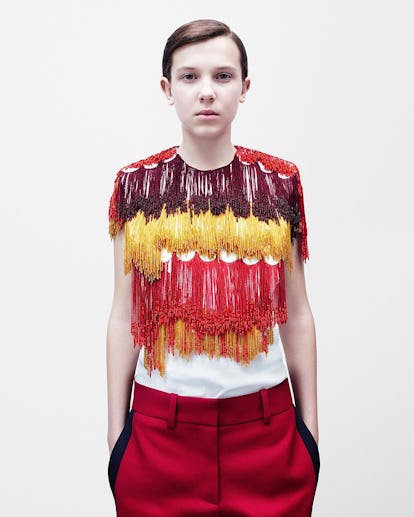 Welcome to Calvin Klein's upside down.
Over the weekend, the American fashion house quietly dropped the first imagery from a new collection, Calvin Klein by Appointment, designed by new chief creative officer Raf Simons, including fashion's new favorite pre-teen, Millie Bobby Brown. The 12-year-old star of Netflix's hit series Stranger Things is photographed staring down the camera, wearing a white t-shirt covered in asymmetrical, multi-colored fringe tucked into a pair of red trouser with black piping down the sides. The pose – defiant and slightly creepy – is very Eleven, but the clothes are all Raf.
The actress re-grammed the image to her 2.4 million followers, writing: "I am so honored to be a part of this. 'A cast of distinct individuals brings the idea to life: Strength of character is key. Whether famous or unknown, all are treated equally' — Calvin Klein By Appointment."
Calvin Klein posted its first Instagram hint that something was to come at, coincidentally, approximately 11 p.m. EST on Saturday evening with a simple text box reading, "Raf Simons, COO Calvin Klein says: 'Calvin Klein is not only about iconic underwear and jeans – it's about so much more." Over the next two hours, two more equally ominous posts appeared, the first reading, "From 205 W 39, the arrival of a new line," and the second, "Calvin Klein By Appointment debut: CKBA 1-14," before posting imagery of the collection itself, as well as uploading a new landing page for the capsule on CalvinKlein.com.
Calvin Klein By Appointment seemingly marks a brand new endeavor for the brand, featuring just fourteen bespoke looks designed by its new COO. The site, which includes succinct quotes from both Simons and creative director Pieter Mulier, notes that this is a 'different departure for Calvin Klein.' "The NYC atelier's celebrity by-appointment service becomes an individual line," the website states. "No longer solely for celebrities, rather an open made-to-measure service."
Appearing alongside Brown in additional pictures uploaded by Calvin Klein are models Julia Nobis, Jamie Bochert, Samantha Eldridge, Lineisy Montero, Natalie Westling, and Abbey Lee Kershaw in one of her few modeling appearances since committing to an acting career. The images come courtesy of photographer Willy Vanderpierre and stylist Olivier Rizzo, both longtime Simons collaborators.
As for the clothing, the fourteen looks run the gamut, ranging from Nobis' full-tulle skirt to a revealing take on the traditional cheerleader uniform, complete with a purple velvet mini-skirt. The site lists 'Cheerleader, Debutante, Majorette" as inspirations for the collection, as well as, "'20s, '30s, '40s, '50s, '60s, '70s, '80s, '90s, 2000s, Now," lest any decade feel neglected.
The mysterious new collection provides a peek into the new era of Calvin Klein, which will come to light fully on February 10th, when Simons will debut his fall 2017 ready-to-wear collection during New York Fashion Week. No word on how By Appointment will factor in – or whether Eggos will be served.
'Stranger Things' Star Millie Bobby Brown Is Here to Stay
See W's most popular videos: