Millie Bobby Brown to Star as Sherlock Holmes's Kid Sister In Multi-Film Deal
She'll also produce the series.
---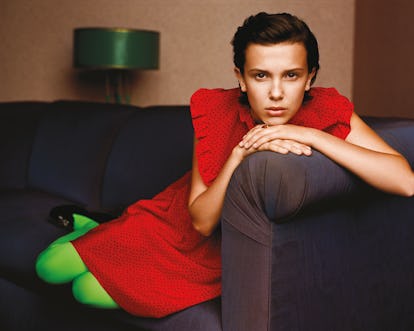 Alasdair McLellan
Millie Bobby Brown's next big project isn't quite elementary, my dear. It's more high school. Whatever the case, it's a major move in the young actress's career as she's just signed a major deal to not only star in but produce a multi-film mystery franchise. Based on a series of novels by author Nancy Springer, Brown will play Enola Holmes, who just happens to be the much younger sister of famed detective Sherlock Holmes (indeed, the character is 14, the age Brown will turn next month).
In the series, Sherlock is already a famed detective while Enola, 20 years younger, is still at home being raised by their mother. That is until mom suddenly disappears, and it's left to young Enola to solve the mystery. It turns out that she's a gift detective like her older brothers Sherlock and Mycroft (Unlike Sherlock and Mycroft, however, Enola wasn't a part of Sir Arthur Conan Doyle's original stories, but rather an original creation of Springer's). Though, her older brothers would much prefer she continue a traditional upbringing as a proper Victorian-era lady, Enola instead spends a good portion of the books trying to escape her brothers and solve crimes instead. Maybe she'll solve the mystery of why her brother can't chill and just let her live along the way as well.
Brown, of course, broke through with her role as Eleven on Netflix's Stranger Things, but she's fast establishing a big screen career for herself as well. She's already finished shooting her role as the (human) lead in the upcoming Godzilla: King of Monsters, and, according to Deadline, will re-team with that film's studio, Legendary Films, on the Holmes series. Brown will co-produce through her own company PCMA Productions.
While it's somewhat unusual for the stars of the underaged set to have their own production company, it's not unheard of either. Mary-Kate and Ashley Olsen's Dualstar Entertainment Group was in business by the time the twins were just six (today the company still serves as the parent company for the Olsen's many fashion enterprises). Come to think of it, the Olsens also used their company to produce a young girl detective series in their straight-to-video series The Adventures of Mary-Kate & Ashley as well. Though, while the Olsens were solving "The Case of the Fun House Mystery," Brown will be solving things like "The Case of the Cryptic Crinoline."
Brown's Enola Holmes series appears to be slated for the big screen, and could run for several films (there's six novels in the literary series). Here's hoping that it doesn't interfere with Brown's other major goal of starring in a stage musical.
Related: Millie Bobby Brown on the Aftermath of Stranger Things: "My Whole Life Changed"
Millie Bobby Brown Is Already One Of Hollywood's Most Stylish Starlets at 13 Years Old
Millie Bobby Brown arrives at the BAFTA Los Angeles TV Tea presented by BBC and Jaguar at SLS Hotel on August 23, 2014 in Beverly Hills, California.

Getty
Millie Brown attends the Premiere of Netflix's Stranger Things at Mack Sennett Studios on July 11, 2016 in Los Angeles, California.

Getty
Millie Bobby Brown visits "The Tonight Show Starring Jimmy Fallon" at Rockefeller Center on August 31, 2016 in New York City.

Getty
Millie Bobby Brown enters "The Late Show With Stephen Colbert" taping at the Ed Sullivan Theater on September 13, 2016 in New York City.

Getty
Millie Bobby Brown at the ICM Partners Pre-Emmy Brunch on September 17, 2016 in Santa Monica, California.

Getty
Millie Bobby Brown attends the BBC America BAFTA Los Angeles TV Tea Party 2016 at The London Hotel on September 17, 2016 in West Hollywood, California.

Getty
Millie Bobby Brown attends the 68th Annual Primetime Emmy Awards Governors Ball at Microsoft Theater on September 18, 2016 in Los Angeles, California.

Getty
Millie Bobby Brown attends UNICEF's 70th Anniversary Event at United Nations Headquarters on December 12, 2016 in New York City.

Getty
Millie Bobby Brown attends The BAFTA Tea Party at Four Seasons Hotel Los Angeles at Beverly Hills on January 7, 2017 in Los Angeles, California.

Getty
Millie Bobby Brown arrives to the 74th Annual Golden Globe Awards held at the Beverly Hilton Hotel on January 8, 2017.

Getty
Millie Bobby Brown attends the 23rd Annual Screen Actors Guild Awards at The Shrine Expo Hall on January 29, 2017 in Los Angeles, California.

Getty
Millie Bobby Brown attends the Calvin Klein Collection Front Row during New York Fashion Week on February 10, 2017 in New York City.

Getty
Millie Bobby Brown poses in the press room at the 2017 MTV Movie and TV Awards at The Shrine Auditorium on May 7, 2017 in Los Angeles, California.

Getty
Millie Bobby Brown attends the SAG-AFTRA Foundation Conversations: "Stranger Things" at SAG-AFTRA Foundation Robin Williams Center on June 5, 2017 in New York City.

Getty
Millie Bobby Brown attends Netflix's "Stranger Things" For Your Consideration event at Netflix FYSee Space on June 6, 2017 in Beverly Hills, California.

Getty