Million-Dollar Babies
By selling photos of their offspring to the tabloids, celebrity parents are making a pretty penny.
---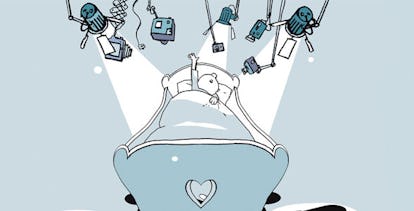 On April 10, 2007, there didn't seem to be a camera in the country that wasn't pointed at Larry Birkhead's grinning, ruddy-cheeked mug after a Bahamian court ruled that DNA testing proved him to be the father of Dannielynn, the daughter of Anna Nicole Smith. At a press conference on the courthouse steps, the blond-streaked erstwhile boy toy gave the thumbs-up and gushed about his joy in being vindicated ("I hate to be the one to say this, but I told you so!") and his pride in claiming Dannielynn. "I'm going to the toy store," he quipped when asked what he would do next.
In fact, what Birkhead did next guaranteed that he'd be able to buy quite a few toys for the tot. He started working the phones to sell the rights to Dannielynn's first published photos. According to an editor at a celebrity weekly, Birkhead—a sometime professional photographer himself—told him that OK! magazine was offering $2 million and asked if he could beat it. Birkhead eventually sealed the deal with OK!, and just eight days after his courthouse victory, he and his seven-month-old were beaming from newsstands across the world.
For most people, the birth of a new baby marks the arrival of a bundle of joy. But for celebrities, it has become a business opportunity. As glossy gossip weeklies like OK!, People and Us Weekly compete for newsstand sales—the Birkhead cover led to an extra 100,000 copies being sold, OK! claims—the race for baby photos means celebrity parents can walk off with a deal worth hundreds of thousands of dollars, if not more. (Whether $2 million was the actual offer on the table remains unclear. OK! says the fee was much lower but will not reveal the specific amount, and Birkhead has said he put the proceeds into a trust for his daughter. Birkhead's attorney did not respond to requests for an interview.) The high-water mark, of course, is the reported $4 million People paid for the first pictures of Angelina Jolie and Brad Pitt's baby Shiloh.
Celebrities have long benefited from the public's interest in their offspring. The difference is that in the past, publicity was the commodity celebrities sought as a way to profit elsewhere. Back in 1953 Lucille Ball scheduled the cesarean delivery of Desi Jr. for the same day her fictional character would give birth to Little Ricky on I Love Lucy. The art-imitating-life promotion helped the episode become one of the most watched moments in TV's young history and launched an entire merchandising line of Little Ricky dolls, aprons and nursery sets. That same year, the very first issue of TV Guide featured Desi Jr. on its cover, dubbing him LUCY'S $50,000,000 BABY.
"To take a picture of your baby and to have the world see it is not a new trend," says Roxanne Motamedi, who produces and packages baby pictures for the photo agency Getty Images, which brokered the Shiloh photos. "But all of a sudden, for the past year or so, you see more and more covers of magazines with celebrities with their babies."
The magazines often don't waste a minute, and the deal-making can start long before the baby is born. A publicist for a major actress who gave birth this year says one magazine made a $1 million offer for the baby photos mere hours after the star announced she was pregnant. Says Motamedi, "You contact their publicist by phone, and you always ask if there will be a [free] handout photo of the baby picture or would they be interested in doing a photo shoot with Getty. In that case, you end up talking about a photographer who you think is good. You talk about the stylist, the hair, the makeup."
The deals can be done a number of different ways. Sometimes stars will work with a photo agency like Getty or WireImage, which will stage the shoot and then auction off sales of the pictures to magazines. Other stars will deal directly with the magazines, agreeing to one publication's exclusive photo scoop. Another strategy is a revenue-sharing agreement in which a magazine or a photo agency pays up front for the shoot and then splits the proceeds of the sales to other publications with the parents.
For decades People was the main buyer of celebrity pictures. But in 2002, when editor in chief Bonnie Fuller retooled Us Weekly as its direct competitor, photographers say they saw prices for all photos rise. And then in 2005, with the entry of OK! into the U.S. market, that tabloid's open policy of paying for stories and photos (long accepted in Europe) lifted the floodgates.
Aside from Shiloh, other recent offspring People has deemed cover-worthy include that of Desperate Housewives' Marcia Cross (photos that a competitor says went for $600,000) as well as Grey's Anatomy's Patrick Dempsey. Us Weekly, meanwhile, has featured the newborns of Tori Spelling and Melissa Etheridge, and OK! has done the same with Sheryl Crow and Spice Girl Melanie Brown.
Whether the parents pocket the money or pledge the proceeds to charity (as Brad Pitt and Angelina Jolie famously did), the stars and their publicists generally defend their decision to sell official baby portraits in the name of privacy, ironically, since releasing an official baby picture drives down the value of any subsequent paparazzi shots. Kevin Mazur, a cofounder of WireImage, says that Courteney Cox and David Arquette's decision to participate in an official first photo shoot with his agency (the pictures ran first in People) makes a good case in point. "I pulled up and I saw three guys in cars sitting in front of the house. They saw me coming, and they all recognized me," he recalls with a chuckle. "All of sudden the three cars took off!
"It makes sense for these people," Mazur continues. "Imagine being a celebrity. You have all these animals trying to get a photo of your kid. You have to be worried about some guy jumping in front of you or chasing you in a car. Why let some guy on the street get the money?"
Similarly, Sheryl Crow's representative insists that Crow's decision to give the first photos of Wyatt, her adopted son, to OK! was shaped by concern for his safety. (The magazine made a $500,000 donation in her name to the United Nations World Food Programme.) "She was never paid a penny," says Dave Tomberlin, her spokesman. "She was being hounded by paparazzi. They were trespassing onto her property, trying to shoot pictures through the windows. She didn't want a paparazzi photographer to make the money for the first baby photos, so she took OK! up on their offer to donate the money to a worthy cause."
There are plenty of other celebrities who have also declined to profit from photos of their babies. Leaving the hospital with their newborn son in 2002, Sarah Jessica Parker and Matthew Broderick allowed swarms of photographers ample time to snap first portraits of the new family, presumably with the idea that the photos would relieve the hunger for additional pictures. And when Julia Roberts gave birth to her third child this June, she did not auction off any photos. (Portraits of her twins, born in 2004, ran first in People.) Tiger Woods and his wife, Elin Nordegren, featured the first photos of Sam Alexis Woods on the golfer's Web site.
Last year, when Tom Cruise and Katie Holmes had their daughter, Suri, they initially inquired with magazines about how much they'd be willing to pay for the first pictures, according to reports at the time. But the couple ended up opting for an editorial shoot with Vanity Fair's Annie Leibowitz instead. Though they didn't get paid for the pictures, the release of the photos turned into a PR bonanza for the couple, whose marriage, of course, had been met with its share of skepticism. As Vanity Fair's Jane Sarkin noted in the issue: "There was no money exchanged, no auction bidding for the pictures—just an invitation to come to Tom's 400-acre retreat in Telluride to photograph the family exclusively for Vanity Fair."
Still, not every baby picture is created equal. Kristy Swanson and Lloyd Eisler, who met on Skating With Celebrities, offered exclusive photos of their baby, born in February, through WireImage, but had no immediate takers. (They eventually landed in Us Weekly.) And, Getty's Motamedi warns, even for A-list offspring, baby pictures are not easy money. "They sleep, then it's feeding time, then they cry, then they sleep," she says. "You don't have that much time to get the perfect shot."