Come to Your Senses
In a cozy indie boutique, signature scents are discovered one confession at a time.
---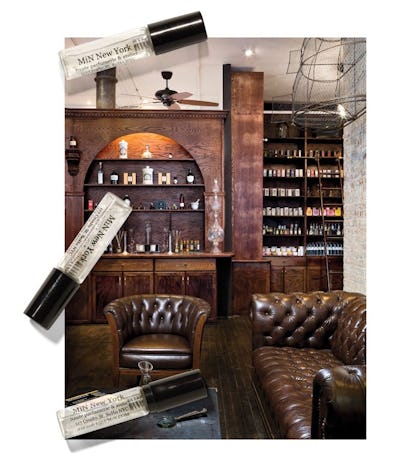 Olya Bar is curled up on the sofa at MiN New York, a fragrance boutique in SoHo. Her eyebrow lifts, her head tilts, and, despite the fact that it's 11 a.m., her voice has the intimate tone of cocktail hour. We've just met 10 minutes ago, but already she's ruminating about my spirit. "You have that outer layer of strength, but inside you have this softness," Bar says. "Fragrance is your way of showing that without speaking it."
Opened by Chad Murawczyk and Mindy Yang in 2010, MiN sells dozens of indie and limited-distribution scents from around the world. There's Naomi Goodsir's line from the French fragrance capital, Grasse; a selection from Laboratorio Olfattivo, near Rome; and the strangely named but enchanting Kerosene, from rural Michigan.
With so many scents to choose from, visitors need a little direction. That's where MiN's Bespoke Fragrance Flight comes in: The $250 hour-long, one-on-one consultation includes an interview and multiple rounds of recommendations, from which I am to whittle my way to a signature spritz. "Finding a new fragrance should be a guided experience, like a wine tasting," says Yang, who came up with the idea.
Bar, one of a handful of employees trained to steer customers through the process, asks me about where I grew up, my favorite foods and colors, treasured vacations, current romantic status, and—possibly the most probing question of all—what aspect of my character I would like to project to the world. Her laser-focused interest has me yammering and confessing as if I'm in therapy: I want to be unexpected but not offensive. Attractive but not too feminine. Fresh but not simple. At the end, she asks if there are specific notes I like. My responses go half-heard, as she's up from the couch plucking bottles from tables and shelves, the crucial intel already gleaned.
Through three rounds we explore about 25 florals, fruits, and spices. She watches my face for initial reactions; anything that gets less than a smile is pushed aside. After an hour, we've narrowed it down to five favorites and two wild cards. ("Everyone puts themselves in a box—like 'no citrus,' " she says. "I like to throw them in a different direction with a twist on things they usually avoid.") Bar sends me home with sample vials and tells me to call her in a week. "Wear them for a while, and have people around you give their opinion," she says. "A lot of times clients get stopped on the street, and that determines their final choice—a random compliment."
Over the next few days I conduct my trials. "It's a lot," says my boss of the woodsy-floral Mad Madame by the Parisian brand Juliette Has a Gun. The sexy, ultraspicy Epic by Oman's Amouage elicits zero reaction from my boyfriend but this winning, if puzzling, comment from a friend: "You smell like the movie Gigi." And though the Beverly Hills–based Keiko Mecheri's deliciously sweet concoctions make up three of my seven samples, they all disappear from my skin too quickly. Finally, it's between the iris, cedarwood, and amber Nirmal by Laboratorio Olfattivo and the lingering, beachy Sel Marin by the Parisian label Heeley. "For you, fragrance is an escape from the stress of New York," Bar concludes. And she's definitely on to something. The Heeley is a citrus, wood, moss, and sea-salt blend, and it smells like my childhood summers spent sailing on Washington's Puget Sound. I wasn't stopped on the street while wearing it, but its power to conjure that blissfully carefree memory, in the end, sold me.