Reese Witherspoon Taps Mindy Kaling to Write Legally Blonde 3
What else are friends for?
---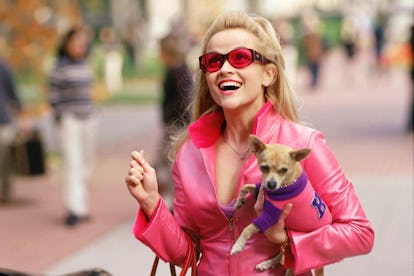 MGM/Everett Collection
Reese Witherspoon is serious about delivering the best version of Legally Blonde 3 possible. And now, she's recruited two writers from some of the best sitcom episodes of this century to pen it—one of whom just happens to be Witherspoon's close friend, Mindy Kaling.
The second Legally Blonde sequel has been in the works for at least two years now, and original writers Kirsten "Kiwi" Smith and Karen McCullah were originally tapped to write the script. Deadline now reports that Kaling and Dan Goor will partner on a totally new script instead.
Goor is the co-creator and executive producer of Andy Samberg's Brooklyn Nine-Nine, and before that, wrote several classic episodes of Parks & Recreation (including the "Li'l Sebastian" episode, of course). Kaling was a writer on Parks' big sister show, The Office. So just based on their sitcom credits alone, they're already something of a comedy nerd's dream duo.
Goor and Kaling first teamed up to pitch and write a wedding comedy starring Priyanka Chopra, which is still in development.
Though, it's Kaling's history with Witherspoon that likely explains the deal. Witherspoon first cameoed on The Mindy Project in 2017, and then the pair co-starred together in 2018's A Wrinkle in Time. More recently, Kaling has had a recurring role on Witherspoon's The Morning Show.
With a creative cast in place, that begs the question: what exactly should we expect plot-wise from the film? Last we saw Elle Woods, she had successfully helped pass Bruiser's Bill through congress, and, in the final moments of Legally Blonde 2: Red, White and Blonde, hinted that she had her eyes on the White House. Witherspoon has mentioned in the past that she'd like to see Woods one day follow through on that dream and run for president, but that hasn't been confirmed as the focus of the third film. In any event, Goor's experience of writing for Leslie Knope will probably come in handy.
Of course, it makes us wonder whether Witherspoon and Kaling might tap any of their other famous friends for the film. Laura Dern as Attorney General? Jennifer Aniston as Witherspoon's Sarah Palin-esque rival? Their Wrinkle co-star Oprah Winfrey as simply herself? Here's hoping.
Related: Reese Witherspoon Making Rom-Com Return with Netflix