Ming Smith on Befriending Grace Jones, and a Lifetime of Artistry
The photographer discusses MoMA buying her work for $300, and her upcoming one-woman show at Nicola Vassell's gallery in early 2021.
---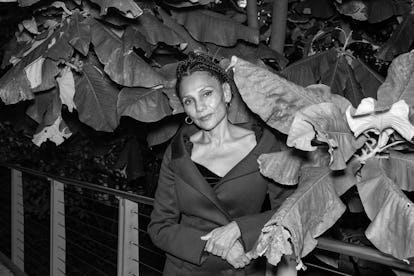 Photograph by Chanell Stone, courtesy of Aperture. Smith wears Altuzarra 'Barbara' Coat, and Hermes Beauty Rouge Hermès in Rouge H.
Twenty-twenty: the year that taught us how to work, socialize, and even conduct photoshoots through Zoom. Why, then, wouldn't The Aperture Foundation host its annual gala virtually? They're doing exactly that, this Tuesday, October 20 at 8:00 p.m. EST via livestream. This year, the not-for-profit organization and publisher honors art historian Dr. Naomi Rosenblum and artist Ming Smith—two women who have proven to be trailblazers in the field of photography. In honor of this celebration, and her new monograph with Aperture, W caught up with Ming Smith last week as she prepares for tomorrow's celebration. Below, she discusses befriending Grace Jones, MoMA buying her work for $300, and her upcoming one-woman show at Nicola Vassell's gallery in early 2021.
James Baldwin, whom you famously photographed, said "Not everything that is faced can be changed, but nothing can be changed until it is faced." How has photography helped you face what needs to be changed?
There have always been a variety of conflicts in my life. My first year of college, I worked for senator Jacob Javits, and when I was working there, there was a student protest; they were storming The Longworth House Office Building, where senators were working. I was sort of caught in between, in that moment, because I loved the people I was working with, who were the establishment, but the students were anti-establishment. So I sort of had this conflict right in-front of me, and I had a variety of moments like this in my life. It was always difficult for me to make a decision, because I could see things from both sides. So photography was a way of me just coming from my own truth—I didn't have to try and figure out what was right and wrong. With the camera, I could explore my sense of truth and what was real and honest.
I want to talk about persistence. Any successful career, especially for an artist, is usually drenched in some sort of unbelievable desire to keep going. Why was photography something that motivated you to persist?
I think with artists, but especially coming from my sense of truth, I just really needed it. It was a way of living and being free, there was something spiritual about it. It was my way of surviving.
The more artists I speak to, the more I hear that. Most artists have to make their work to survive—it's not so much about trying to be successful, it's just making the work to feel alive.
Yes—art is like, my only friend. Artists, you know, we're not always the most popular people. We tend to be loners. I'm thinking about the writers and painters, most of the artists I know. It's a way of having some real communication.
When you started making your early work, did you always see its power?
Photography was so inside myself, really. I had so much more reverence for painters. The power of photography for me was its ability to resonate so deeply inside my soul. It was something that was familiar and I always had. I love beauty and I look for beauty in things and people. After seeing what I shot and captured, that was the power for me, knowing I created it. A lot of artists endure a ton of judgement, and you hear "You're not this, and you're not that," but the power for me was saying, "I don't care what anyone says, I know this is good." I always tell new artists that you don't always have to imitate someone else, it can come from inside your soul.
Where does your strength to endure and keep going come from?
The work is always the most important thing, so focus on that. There's always going to be some big judgment coming at you. You have to know yourself and make a commitment and stay strong. Once you start digging into your work, you start creating from yourself, but you'll see your references and what inspired you all along. I like to say in my work that you'll see something ancient, but also something new. That's the same with any art form. For example, I started shooting nudes—the one that's on the cover of my book—because I saw The Kiss by Rodin, and I felt so much emotion as a twenty year old in love with love.
Looking through your latest book with Aperture, which contains work from the 1950s though the 1990s, are you ever surprised by the pieces of time that your younger self chose to remember?
When I was putting the book together, It surprised me to see certain images and realize that, from an artistic perspective, certain images are still very strong. You see these images and you're like, oh that's an early Ming photograph. Then you also see the growth (throughout the book) but there's always a bit of me present in all those photographs.
There's one picture that's really striking, on page 56 of your book. It's a black and white image of a man with red paint going down in columns across it. Can you tell me a bit more about that picture?
The black and white image was a strong image by itself—and I think I took it around 1976. Taking that picture, it felt like I was capturing him as he was, a black man in America. It was always one of my favorite images. Then, around 9/11, I did a series of pictures where I was painting in red, and I wanted to do something that felt emblematic of the trauma I felt in relation to the United States and the bloodshed around that time.
Were you in New York City for 9/11?
Yes, I'll always remember it. It was [my son] Mingus's first day at his new prep school. Some of his classmates had fathers who were in the towers. I remember thinking of taking my camera to go downtown to take a picture of what was going on, but I decided not to, and if I had gone I would have been under the second tower just as it fell.
Your son must be close to my age. My generation has lived through some weird times—but so has yours!
Well, you know, before that, the really tragic thing was AIDS, which really devastated me. That's actually when I stopped modeling. I hadn't realized that until I was looking at my photographs. Sometimes when you're going through these intense times you don't even realize it because you're busy trying to survive.
You stopped modeling during the AIDS Crisis?
My best friends and my support group—they all passed away during that time. The fashion industry was very affected. I guess I started thinking about mortality and what it all means. My friends who were artists didn't live long enough to really make their work.
What was your younger life like in New York? Did you go out a lot?
I would go out once in a while, but I was still mainly by myself. Even like Grace Jones, she was a friend. She wasn't a superstar at that point. I was still mostly into my art, more than I was into any group. I didn't have the money to go to Studio 54 every night—but all that cost a lot of money.
You have this beautiful photograph of Grace Jones in a leotard in your book.
Someone was painting or drawing her. I happened to be there, and I had my camera, so I took her photograph. This was at a point when she wasn't working at all—she hadn't gone to Paris and become a star yet. She had some people who liked her, but a lot of people were not accepting of her, and I think that's why we bonded and we were accepting of one another. We could really talk and just relate to this idea of trying to survive, and she felt really comfortable with me.
You are a lot of "firsts": the only female member of the Kamoinge Workshop, the first Black woman photographer to have her work purchased by MoMA's permanent collection. What is your relationship to this idea of the "first?"
I've never thought about that. All those years, I didn't even really think about those firsts. I just hope that saying "the first," and when you hear that, that the younger generation realizes that there are possibilities. You might be a first, or not, but it doesn't matter. Being in MoMa, honestly, it was like getting an academy award, but nobody really knew about it (Laughs). But it gave me validation.
Take us back to the Ming Smith who had just graduated from Howard University in 1973, who moved to New York City and made a living as a model. What was that like? What was the energy that was guiding you at that point?
I think my grandfather wanted me to be a doctor, but I knew I didn't want to be a doctor. I realized in school, doing dissections, that it wasn't for me. My father was a pharmacist and graduated from Ohio State Cum Laude, and he was working as a pharmacist making 100 dollars a week. I could work as a model and make $100 an hour. So if there was some possibility of me working, why not?
You've mentioned in other interviews that your appearance, one that is very beautiful, held you back when trying to make a formal entrance into the art world. Later on, self-portraits became a part of your practice. I have to wonder if the act of taking your own picture was somehow a reclaiming of your image? If not, what inspired moving into self-portraiture?
Nobody was looking at me in the art world, honestly. Ninety percent of all my self portraits I took in the same way I'd take a picture of a flower or a tree—I just saw my reflection and took a picture. It wasn't even like it was a picture of me, I'd just take a picture and it was like taking a picture of anything else. One of the self-portraits in the book was inspired by Josephine Baker. I had been working on this one woman show at the time, and I was really inspired by Josephine Baker because she was a dancer. The self-portrait was going to be the poster for the show, so that's why I took that one. I wasn't really thinking of her at the time.
Your work has become known for some striking attributes: blurriness, your affinity for shooting on high f-stops, creating even depths of field between your foreground and background. Some of your biggest champions interpret these aesthetic choices as ones that serve as protection for your subjects—and we must note that Black people, who suffer at disproportionate numbers from police brutality, are often your subjects. How would you explain these qualities in your work?
That's a beautiful question, I love that. The blurriness protects the subject, but it also protects me.
Has photographing a stranger ever gotten you in trouble?
Yes, especially in Harlem. A lot of different religions don't want their members to be photographed, and that's happened a few times in Harlem.
Tell me a bit about the process of making this book. How did you choose which images would make the cut? Who designed it?
It was a huge collaboration. Brendan Embser, the editor at Aperture, really wanted me to be happy about it, and that meant so much to me. Mingus and a few others went over some books, and Mingus loved the designer Sonia Dyakova. Mingus was at every step of the way, and he really liked this designer because she was great at making holograms, so we went with her. Originally I chose around 300 pictures I wanted to include, but Mingus was like "No, we gotta just do 100," (Laughs).
What are you most proud of in your career?
I'm most proud of my sons. I'm proud that I persevered through, and I know many people did not. Through it all, I kept going. I had faith. One of the things you need to do, and I say this to all the young artists, is take care of your health. You need to stay healthy and find a way to stay sincere with yourself and have some sort of spiritual connection for yourself.
Related: Fenn O'Meally on Making Films for Prada and Black Triumph