Ming Xi Fell on the Victoria's Secret Fashion Show Runway, But Another Angel Was There To Help Her Back Up
She was helped up by fellow model Gizele Oliveira.
---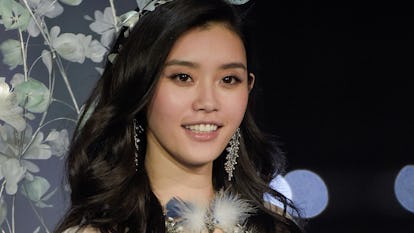 Fred Dufour/AFP/Getty Images
This year's Victoria's Secret Fashion Show might be her first time walking the runway as a VS Angel, but Gizele Oliveira has already earned her wings when it comes to the traditional definition of what an angel should be. While filming the show on Monday in Shanghai, when fellow angel Ming Xi tripped on her outfit's long, gauzy train and fell on her knees on the runway, Oliveira helped her up without missing a beat and applauded Xi as she finished her walk.
In a video taken just after Xi's fall and shared to Twitter, the Chinese model stays on her knees and flashes a big smile while she regains her bearings and prepares to stand up. Just in time, Oliveira saunters up the runway, clapping for Xi as she starts to stand up, then offers her a hand before gesturing for her to keep walking ahead of her. "Gizele is a true angel by helping Mingxi when she fell" the Twitter user who shared the video wrote.
Photos from the event show that Xi's elaborate outfit was just begging to be tripped over: She wore gray lingerie, flowery "wings," thigh-high lace-up stiletto heels, and an elaborate gauzy overcoat with puffy sleeves and a trailing flowy train. Oliveira, meanwhile, wore a black bra, a pile of ornate necklaces, a black, red, and gold miniskirt, and a much shorter puffy-sleeved overcoat that matched her skirt. Throughout the whole mishap, both models stayed as angelic as possible, keeping huge smiles on their faces—Xi even appeared to be giggling while she was mid-fall.
But savor that Twitter video: there's a good chance that you won't see Xi's fall when the Victoria's Secret Fashion Show airs on November 28, since they film the whole show twice to account for different camera angles, technical difficulties, and, of course, the occasional runway stumble.
Related: Bella Hadid Was "So Excited" to Walk the Victoria's Secret Fashion Show, Even Without Gigi
How to Take a Selfie Like a Supermodel