Miranda July Is Super Social
The multi-hyphenate discusses her new iPhone app, Somebody.
---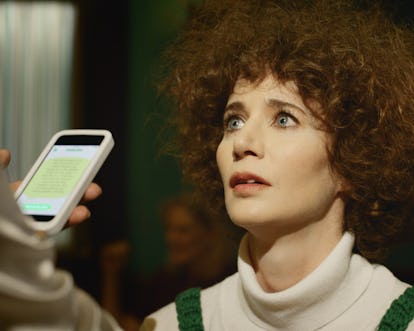 Miranda July is many things—writer, artist, actor, filmmaker—but she will be the first to admit she is no tech savant. Yet, she says, "I love a challenge." So when she was struck by an idea for a new social media app a few months ago, she wouldn't let it go. "I've been kind of obsessed," July admits. "I'd been telling everyone about it, and trying to figure it out how to get it made."
She figured it out. Today, Somebody, a messaging service July designed, will be available on iTunes. Sponsored by Miu Miu and co-presented by the New Museum (as part of its First Look series) and other institutions across the country and abroad, the app, like much of July's art, is an attempt to hold a conversation between worlds virtual and real.
Here's how it works: When you send a message through Somebody, it goes not to the intended recipient but to the Somebody user nearest to them. That person, who could very well be a complete stranger, will deliver your message IRL, based on the specific script you've given them—whether it's with a hug or a tearful plea. In a way, it's a natural adaptation of social media for a writer-director and performer, especially one whose major subject is the myriad ways in which we interact with one another.
"The app makes people do things they normally wouldn't do," she says. "It can get outrageous. I do like the fact that it creates these ephemeral experiences, but I also hope that some people will document their message deliveries, just so I can see them."
However, July admits, there are times when maybe you're just not in the mood for performance art. That's why she included an option to reject incoming messages. "I'm a really private person," she explains. "Sometimes I don't actually want strangers coming up to me." She laughs, and adds: "But if you see my name pop up, please say 'Yes.' I'm really the most benign thing someone will ever encounter."
Official Somebody hotspots include LACMA (with a presentation accompanied by a video by July on September 11); the New Museum (presentation on October 9); Yerba Buena Center for the Arts, San Francisco; Portland Institute of Contemporary Art; the Walker Art Center, Minneapolis; and Museo Jumex, Mexico City. Museum-goers are invited to send and deliver messages in these spaces where there are likely to be other users—maybe even July herself.