Missy Elliott, Larry David, and Sting's Daughter Are the New Comeback Kids
Elliott stars in a new Marc Jacobs campaign, Curb Your Enthisiasm returns, and Eliot Sumner breaks out.
---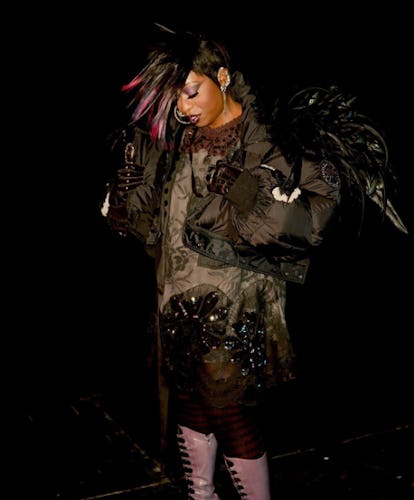 Armour, Under Though the sportswear brand has gone from zero to titanic in two decades, it still hasn't caught up to competitor Nike — could its Currys be an answer to Nike's Air Jordans?
Azevedo, Tony Four-time Olympic water polo star (and one-time silver medalist) who listens to Robyn as his pump-up jam.
Brexit As the referendum draws closer, British designers speak up about what a British departure from the European Union could mean. ("No designer is an island," Christopher Kane muses.)
Diamonds, American Grown Diamonds are forever, even when they're grown in labs.
Enthusiasm, Curb Your The long-running Larry David sitcom will return for a ninth season on HBO.
Elliott, Missy Never going out of style. Elliott's new Marc Jacobs campaign was unveiled on Instagram Tuesday, and in it, she upstages all the models.
Lagerfeld, Karl The Fendi and Chanel designer moonlights as a photographer, and many previously unseen images and campaign outtakes are now on display at Pitti Uomo. Get a preview, here.
Olsen, Ashley Rumored to be attached to 59-year-old artist George Condo; the 30-year-old designer was recently spotted with Condo in Soho and "it looked romantic," according to a source. Older men are in?
Sumner, Eliot Daughter of Sting, former frontwoman of I Blame Coco; after "sabotaging" her first act, she's splitting her time between DJing as Vaal and recording under her own name.
West, North Three years old today; dressed in fur, already a member of the style elite thanks to parents Kim Kardashian and Kanye West and family friends like Riccardo Tisci.
On a Kardashian note, Kim has scored yet another magazine cover — this time, her first for GQ. Go behind the scenes of the shoot here:
Mimic Missy Elliott's "WTF" Style