Missy Elliott Goes All Out on the Look While Mariah Carey Performs on a Jet Ski at VH1 Hip-Hop Honors
Missy Elliott recreated "She's a Bitch" on stage.
---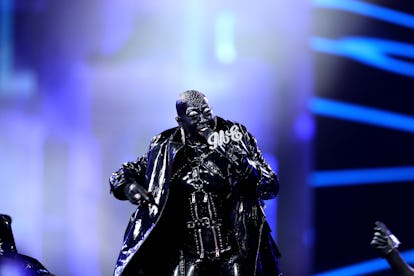 Maury Phillips
Last night's VH1 Hip-Hop Honors was ostensibly all about throwing it back to the '90s, but leave it to Missy Elliott to be able to dip 18 years back into her catalog while still making it feel like she blasting us all into the future. Elliott opened the show with her 1999 single "She's a Bitch," which might be best remembered for its post-apocalyptic video that was, at the time, one of the most expensive videos ever made. Elliot, of course, just decided to recreate the whole thing on stage, and it delivered.
Styled by June Ambrose, Elliott went full-on leather in her outfit and put a new spin on the video's makeup look. Donning a bald cap and midnight black face paint, Elliott accentuated the look with silver eyeshadow and lots of crystals. For good measure, Elliott also one point put on a leather coat with a 30-foot train. Oh, right, she also kicked off the performance by emerging from a pool of water in the middle of the stage.
It's all just another reason to make us wonder why the MTV VMA's don't honor her with the Video Vanguard award.
Of course, Elliott wasn't the only superstar to perform at the show.
Mariah Carey's album Honey, a mix up of the singer's trademark R&B balladry and hip-hop, just celebrated its 20th anniversary, and Carey showed up for a performance of the title track. Those who remember the '90s might remember that "Honey" gave way to an astounding number of remixes and two different music videos. Carey decided to mash things up by performing with Jermaine Dupree and Da Brat from the song's "So So Def" version, and The Lox and Mase from the "Bad Boy" remix. Carey also paid tribute to the original "escaping from a kidnapping on a jet ski" theme of the video by donning an update of her "Agent M" look, putting her backup dancers in sailer outfits, and, of course, seating herself on a gold plated jet ski in the middle of the performance.
The night also featured performance from other nostalgia inducing acts. Lil Kim lead a tribute to recently deceased Mobb Deep member Prodigy, Trick Daddy and Trina reunited for a rendition of the southern classic "Nann," while Xscape, a '90s girl group that launched so many reality TV show careers, regrouped to perform their single "Just Kick It." That lineup including Real Housewives of Atlanta's Kandi Burruss, Tiny and Tonya' Tiny Harris, and R&B Divas: Atlanta's LaTocha Scott.
Monica, Regina Hall, Martin Lawrence, Pharrell Williams, Kelly Rowland and DJ Khaled also all made appearances.
Related: June Ambrose on How High Fashion Learned To Love Hip-Hop
25 Reasons Why We're So Obsessed With Mariah Carey's Style
Mariah Carey attends the 33rd Annual Grammy Awards circa 1991 in New York City wearing a little black dress with rhinestone trim and long diamond earrings.

Images Press/Getty Images
Mariah Carey attends the 19th Annual American Music Awards on January 27, 1992 at the Shrine Auditorium in Los Angeles, California wearing a sequin dress and shimmering tights.

Ron Galella, Ltd./Getty Images
Mariah Carey wears a black slit skirt paired with a black bandeau crop top out in New York City, a look she paired with simple strappy heels.

KMazur/Getty Images
Mariah Carey was the queen of a good pair of jeans. Here, she sits in the recording studio in a worn pair of Levi's and a button-up sweater.

Getty Images
Singer Mariah Carey attends the Fall 1994 Fashion Week: Calvin Klein Fashion Show on April 13, 1994 at Bryan Park in New York City in a classic '90s "Clueless" look.

Ron Galella, Ltd./Getty Images
Singer Mariah Carey attends the 23rd Annual American Music Awards on January 29, 1996 at the Shrine Auditorium in Los Angeles, California wearing leather pants.

Ron Galella, Ltd./Getty Images
Singer Mariah Carey attends the "Seven Years in Tibet" Century City Premiere on October 6, 1997 at the Cineplex Odeon Century Plaza Cinemas in Century City, California.

Ron Galella, Ltd./Getty Images
Singer Mariah Carey attends Sean Combs' Party to Celebrate the Grand Opening of Justin's Bar & Restaurant on September 30, 1997 in New York City.

Ron Galella, Ltd./Getty Images
Mariah Carey lets her curly hair down and wears a shimmering gold dress for a night out at the Beacon Theatre in New York City in 1998.

KMazur/Getty Images
Mariah Carey poses in a pink Chanel houndstooth two-piece with a small dog at a Chanel-hosted lunch at Lincoln Center in New York in 2000.

Rose Hartman/Getty Images
Karl Lagerfeld poses with Mariah Carey circa 2000. The singer wears a mesh little black dress and the two perfectly match, making us realize they're actually quite similar.

Rose Hartman/Getty Images
Mariah Carey wears a sequin butterfly bustier to the 'VH-1 Divas 2000: A Tribute To Diana Ross' at Madison Square Garden in New York City.

Evan Agostini/Getty Images
Mariah Carey wears a pink slip dress to receive her award at the The 6th Annual Blockbuster Awards in the Shrine Auditorium in Los Angeles, California.

Gregg DeGuire/Getty Images
Singer Mariah Carey poses for paparazzi photographers July 11, 2001 wearing a "Delicious" tank top as she leaves the Mandarin Oriental Hotel in Knightsbridge, London.

Getty Images
Mariah Carey wears a crochet bustier crop top and a maxi denim skirt to the The 17th Annual Soul Train Music Awards in Los Angeles.

Jeffrey Mayer/Getty Images
Mariah Carey attends a party to promote her new single "Loverboy" and new album "Glitter" in London wearing a bandana top, denim separates, and a "Glitter" belt.

UK Press/Getty Images
Mariah Carey poses in a denim mini skirt, "Glitter" tank top, and sunglasses while holding a pink boom box on tour promoting her new album.

RJ Capak/Getty Images
Mariah Carey steps out in a pink Juicy Couture velour jumpsuit top, which she paired with jeans, sunglasses, and a rhinestone belt to sign autographs.

Ferdaus Shamim/Getty Images
Mariah Carey arrives in London wearing a "Honey B. Fly" pink top, denim separates, a diamond chain necklace, and an "Automatic princess" diamond chain belt.

Stuart Mostyn/Getty Images
Mariah Carey attended her album launch and birthday party at Tantra in London, Great Britain wearing a fur-trimmed white shawl, a white maxi dress, and lots of jewels.

Ferdaus Shamim/Getty Images
Mariah Carey steps out to walk her dog in New York City wearing high heels, a yellow bandage dress, and sunglasses. Is this her version of casual?

James Devaney
Singer Mariah Carey throws the ceremonial first pitch before Japanese professional baseball match between Yomiuri Giants and Rakuten Golden Eagles at Tokyo Dome on May 28, 2008 in Tokyo, Japan.

Koichi Kamoshida/Getty Images
Singer Mariah Carey leaves MTV Studios July 22, 2008 in New York City wearing a rainbow mini skirt and diamond belt and a blue button-up shirt.

James Devaney/Getty Images
Mariah Carey didn't even let a broken arm get in the way of her glamour. Here she is seen leaving the Ritz-Carlton on July 12, 2013 in New York City with a bedazzled sling.

James Devaney/Getty Images
Mariah Carey didn't even let a broken arm get in the way of her glamour. Here she is at "The Butler" New York Premiere in a studded sling.

Daniel Zuchnik
Pharrell Williams take W's Screen Test: