Missy Elliott Drops New Single, Debuts New Music Video, Announces Documentary All at Once
"It's never just making a hot record. I can do that in my sleep."
---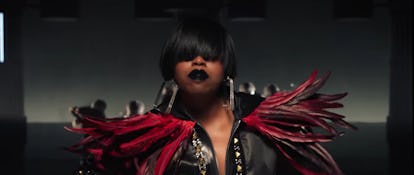 Courtesy of YouTube/Missy Elliot
It's not like Missy Elliott ever really left, but Friday marked a major resurgence for the hip-hop icon. Elliott led off her very big day with the release of a brand new single. Oh, and she dropped a mind-blowing new music video to go along with it. Oh, and she announced a new documentary about her career via a sneak peek of the footage. Talk about a triple threat.
First, the music. The latest single is "I'm Better," featuring rapper Lamb. And the track's title is no lie—we didn't know it was possible, but she is truly back and better than ever, despite the fact that she hasn't released a studio album in more than a decade. The video has Elliott and a slew of backup dancers grooving in a dark, futuristic space and, later, at the bottom of a swimming pool. The single is her first since 2015's "WTF (Where They From)," featuring Pharrell Williams. See the new video below:
The new track dropped simultaneously with a first look at a documentary about the rap icon. In the first footage, several people attempt to describe the electrifying performances and sounds that Elliott has become known for. Expect the documentary, which seems to simply be titled Missy Elliott, to be released at some point in 2017.
"It's never just a record for me," Elliott says in the trailer. "It's never just making a hot record. I can do that in my sleep. But visually I have to see what I'm going to do with that record when I perform it."