Mitski, a Would-Be Star At Odds With Herself
After a lifetime of being an outsider, the musician is breaking through with her upcoming album, Puberty 2. But will she be able to enjoy her moment?
---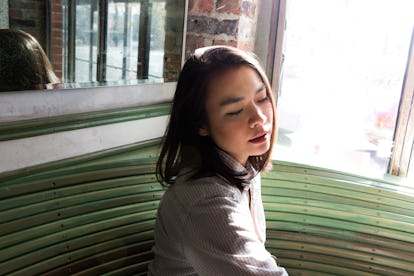 "Your Best American Girl," the lead single on Mitski Miyawaki's upcoming album Puberty 2, out June 17, begins quietly with a thumbed bass line and a few hushed lyrics before melting into a sonic wall of distorted guitars, wailing vocals, and anthemic melody. The song premiered at the beginning of March and was named Best New Track by Pitchfork. But it wasn't until the end of the month that it came to life — that's when the 25-year old Mitski, as she is known, played it at a packed set at South by Southwest. The social response to NPR's video of the event was swift and generous; the track has now reached nearly a million streams on Spotify.
That "Your Best" became Mitski's first new single in nearly two years, and the kind of song that you hang a set on, happened almost by accident: "That song was … not a throwaway song, but I really purely was writing it for myself," she said. "It's about a very specific experience from a specific background. I don't think everyone would relate to the protagonist of the song." As the title suggests, its narrator grapples with fitting into a notion of American-ness and finding, much as she might try, she doesn't quite match the mold.
Growing up an army brat, Mitski's family moved from Japan to the Democratic Republic of the Congo to Turkey. "As a kid, you can only say goodbye so many times," she said. "I never really took root." The frequent moves meant that, in addition to relationships, she found it difficult to hold onto many material possessions, as well. "Music was the one thing that I always had for myself that no one could take away," she said. "It's kind of become a home. It does make me feel better about being an outsider because it won't go away for as long as I don't let it go."
Mitski has made a career out of being un-relatable — or, rather, out of being an outsider. It's an identity that "touches everything in my life," she said. "That's where I come from. So yes, it's all I talk about, but it's also my whole world." The response on social media to the video for "Your Best American Girl," in which a Creatures of the Wind-clad Mitski tears at her guitar while watching the object of her affection get it on with another girl, might be proof that her audience is rooting for the underdog — "Mitski's 'Your Best American Girl' video delivers the mic drop on white indie America," Vulture tweeted, echoing the legions of fans who chimed in with their support of the clip.
The second single, "Happy," traces a similar arc. It's a Brothers Grimm-esque fairytale starring a fickle lover named Happy and an energetic sax line. "Happy came to visit me, he bought cookies on the way," the song begins cheerily, though it takes a turn in the next verse: "I was in the bathroom, I didn't hear him leave/I locked the door behind him and turned around to see all the cookie wrappers and empty cups of tea." The video, which premiered Monday, is a macabre costume drama featuring this capricious lover in the flesh. Adultery, murder, and a jilted lover all play starring roles.
Mitski's songs are specific, personal, and performed in the first-person, belying her reticence to talk about herself. The line between person and persona can be a tough one to walk. On her Twitter (and in her music), Mitski is candid and humorous, interacting regularly with fans while offering flashes of insight into her private life. (On May 15, at 1:45 PM: "just heard someone nextdoor scream into their pillow, I know a pillow scream when I hear 1, i don't know my neighbor but I think I like them.") In past interviews, she frequently delved into the particulars of being a woman in a male-dominated music scene, and of what being a woman of color — she's Japanese-American, but has said she identifies with neither side fully — means for perceptions of her work. But lately, she's been more reluctant to publicly discuss such issues.
"I started to feel like I was this monkey or clown that was hired for a birthday party," she said. "I have to think about whether what I'm saying is actually serving its purpose or whether it's being used for unimportant means, or it's used for a brand, or it's used in ways that doesn't progress the conversation." She's guarded, and despite her candor on social media, she keeps many things to herself. Mitski the narrative voice, she assured me, is not the same as Mitski the person.
There are certain areas she makes clear are off-limits: her family, her relationships ("they never asked for it; they are not artists," she said), and the details of her switch to indie label Dead Oceans (Puberty 2 is her debut on the label), which boasts a roster of acts like Dirty Projectors, the Tallest Man on Earth, and Phosphorescent.
"It honestly takes so much weight off of my shoulders," she said of the added resources that come with a bigger label. She started writing songs at age 17 and came of age as a musician in the DIY scene in Brooklyn after graduating. (The Bowery Ballroom, where she'll headline next month, is a major departure from cult venues like Silent Barn, where she got started.) Mitski booked her own shows and tours and promoted her music herself. "I feel safer now that I have a few more people on my team," she said. "It feels like a real job because I have people depending on my music."
It hasn't always been so. Mitski has wrestled with the idea of music as a career; after graduating high school a year early, she spent a year in film school at Hunter College, while writing songs and picking the locks to the music practice rooms just to get a few hours on the piano.
"I have this thing about being acknowledged and accepted by institutions," she said — she went to film school because she had the impression film was an art where graduates were nearly certain to find jobs, and she still flirts with the idea of going to Ivy League school or landing a nine-to-five office job. "On tour, I don't drink, because I don't think in any other job you are supposed to get to work and drink whisky." And in conversation, she's entirely serious about her work; she speaks about her music slowly, in measured tones, candid but cordial. If she treats her career soberly, she seemed to think, it will be legitimized.
Mitski takes her songwriting just as seriously. "Every word should count," she said. As the last track on Puberty 2 — Mitski's favorite, a short ditty called "A Burning Hill" — concludes, she sings, "I can at least be neat / Walk out and be seen as clean." It's a hyper-self aware line. Like her past work, Puberty 2 still wrestles with Mitski's sense of outsider-ness, but it's more wry and less angsty, as if the act of writing helps her come to terms with that sense of existing on the margins. She seems to sing at a remove from the characters she portrays, allowing her to both inhabit and poke a bit of fun at herself. It's puberty at a remove, coming-of-age in hindsight. Puberty number two.
Photos: Mitski, a Would-Be Star At Odds With Herself
Mitski. Photo by Ebru Yildiz.
Mitski performs during the 2016 SXSW Festival. Photo by Getty Images.
Mitski performs during the 2016 SXSW Festival. Photo by Getty Images.
Mitski. Photo by Ebru Yildiz.
Mitski. Photo by Ebru Yildiz.
Mitski. Photo by Ebru Yildiz.