Miuccia Prada Takes a Digital Bow to End an Era
Miuccia Prada's last solo show leaves fashion editors buzzing.
---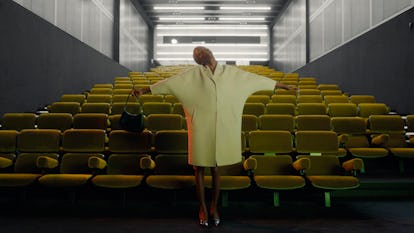 Martine Syms, courtesy of Prada
Even if it weren't for the pandemic, Prada's latest showing would have stood apart. In September, Raf Simons will officially join Miuccia Prada at the house's helm, meaning the collection Prada virtually presented on Tuesday marked the last that Ms. Prada will have designed on her own.
It's no surprise, then, that she chose to focus on "the quintessence of Prada, the meaning"—and not so much riff on, but relive her greatest hits. There was sharp, expertly tailored suiting, followed by detail after detail of the classic metal Prada logo triangle. (You'll no doubt see the latter pieces on Frank Ocean when red carpets return.) There was black nylon, and there were lightweight white separates fit for a tennis court. There was pastel, amorphous outerwear, once again illustrating Prada's occasional parallels to Simons-era Jil Sander. And there were a few standouts, like a button-up and tie tucked into a pair of sweatpants. ("Zoom meeting on top, quarantine uniform on bottom," as the writer Alexandra Mondalek put it.)
If it were any house but Prada, there's a good chance most of those details might have been missed. While brand after brand has endeavored to digitally present their latest couture and spring collections, the way they've presented them has often taken precedence over the clothing itself. Ms. Prada, too, played around with the format, tapping five artist and photographers to present five video "chapters" of the collection. But in "The Show That Never Happened," there are detail shots and close-ups, carefully woven in.
Two of Prada's collaborators—the fashion photographers and longtime W contributors Juergen Teller and Willy Vanderperre—described their approach as "honest." For Teller, that meant placing models in a factory setting, with piano and the sound of machines whirring as the soundtrack. Vanderperre opted for a black-and-white, more frenetic version of a traditional runway show, with models strutting and criss-crossing through a vacuous white space. As for the Polish photographer Joanna Piotrowska, she created what were essentially moving versions of her signature black-and-white portraits, using finger snaps to call the viewers' attention to each look.
Both of the artists Prada tapped took a slightly more innovative approach. Martine Syms, whose videos often examine Blackness and surveillance, packed (socially distant) models into an empty lecture hall, where they stared at themselves. Fittingly for the collection's more leisurely, athletic portion, Terence Nance took his models outdoors.
Finally, there was a film of what looked like an actual traditional runway show, taking place in a cavernous concrete room. There was, of course, no front row, but some things never change: Ms. Prada still took a bow, nodding to the audience remotely tuning in.
Related: An Illustrated Guide to Why Raf Simons x Prada Makes Sense