Model Grace Mahary's Essential Guide to Bali
Tag along with the supermodel as she shares everything from what to pack, to where to eat, sleep and shop.
---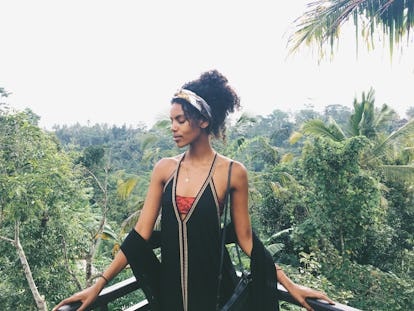 Copyright 2016. All rights reserved.
Before the craziness of Fashion Week kicks off in September, model Grace Mahary took a trip to the Indonesian island of Bali for some relaxation, and a good friend's wedding. She also took some time for herself, sneaking off to spas and for shopping excursions before and after the nuptials. Here, she shares her fondest memories, photos, and where to go that's off the beaten path.
What essentials to pack: Dermalogica moisturizer, Bliss Triple Oxygen Mist, La Roche-Posay sunscreen, M-61 Hydraboost eye serum, and definitely bug spray!
How to fly: Leggings, comfortable top, and layers, as I'm often cold on flights.
Where to sleep: AYANA Resort and Spa
Where to eat: Mejekawi, upstairs at Ku De Ta.
Where to drink: Potato Head or Ku De Ta, especially to watch the sunset.
Where to dance: La Favela.
Sights to see: Ubud, especially the Palace, and the Kintamani lake and volcano.
Where to shop: Boutiques along the roads in Seminyak.
Where to go for a pit stop: Earth Cafe
Where to relax: At any of the many local massage spas in town.
Most touristy activity: Watching the traditional Barong dance.
Most off-the-beaten path adventure: Walking down a rocky and green path to discover the white sand beach of Bingin.
Fondest memory: Seeing the joining of two beautiful souls (at my dear friends' wedding) during the most amazing Bali sunset.
Model Grace Mahary's Bali Photo Diary
Processed with VSCO with a9 preset

Copyright 2016. All rights reserved.
Processed with VSCO with a8 preset

Copyright 2016. All rights reserved.
Watch W's most popular videos here: