Model Hanne Gaby Odiele Reveals She's Intersex
The international fashion model and street style star wants to be a voice for children born with Androgen insensitivity syndrome.
---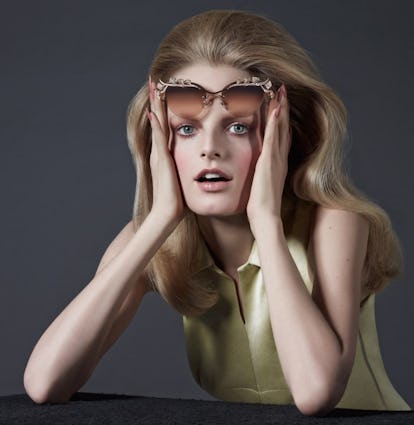 "The Wild One" photographed by Santiago Mauricio, styled by Lindsey Frugier; W Magazine February 2014.
Model Hanne Gaby Odiele is already a catwalk veteran, streetstyle star, Alexander Wang muse and all-around fashion cool kid. Now she wants to add activist and intersex role model to her resume. In an interview with USA Today, the Belgian model reveals that she was born with Androgen insensitivity syndrome and is using her fame to speak out on behalf of children born with the condition.
"It is very important to me in my life right now to break the taboo," she told the newspaper. "At this point, in this day and age, it should be perfectly all right to talk about this."
As the paper points out, about 1.7 percent of the world population is intersex, roughly equivalent to the percentage that has naturally red hair.
Odiele's condition means she was born with XY chromosomes and an internal pair of tests, but doctors convinced her parents that she needed to undergo several surgeries, including genital reconstructive surgery, even though they weren't medically necessary. She says the surgical decisions made without her consent still trouble her today. Though doctors claimed that undescended testes left in the body could lead to cancer later in life, activists say there's no reliable data confirming the correlation and that indeed such surgeries carry their own side effects, including permanent infertility, a lifelong reliance on hormone replacement medication, and psychological trauma.
"It's not that big of a deal being intersex," she says. "If they were just honest from the beginning… It became a trauma because of what they did."
Odiele will now work closely with interACT Advocates for Intersex Youth, and become a public face for those born with the condition.
Odiele recently celebrated her ten-year anniversary in the modeling industry, and earlier this year married fellow model John Swiatek wearing a lacy top from Wang's final collection for Balenciaga over wide legged cargo pants.
Throughout her career, Odiele has appeared on dozens of international magazine covers, fronted campaigns for Wang, Marc Jacobs, Moschino and Saint Laurent, walked for just about everyone from Vera Wang to Versace, and appeared in the pages of just about every major fashion magazine (including W)–despite having to go through rehabilitation after having both legs broken after being hit by a car early in her career.
All of those achievements are quite rare, so the fact that she happens to have been born Intersex should probably be one of the least interesting thing about Odiele's life.
Watch Hanne Gaby Odiele appear in the short film "I Am Syrian":