Model Hayett McCarthy Is All About Latex, David Bowie, and Charity Shops
The breakout model and self-proclaimed bowling aficionada shares her love for everything from latex to Creatures of the Wind to almonds.
---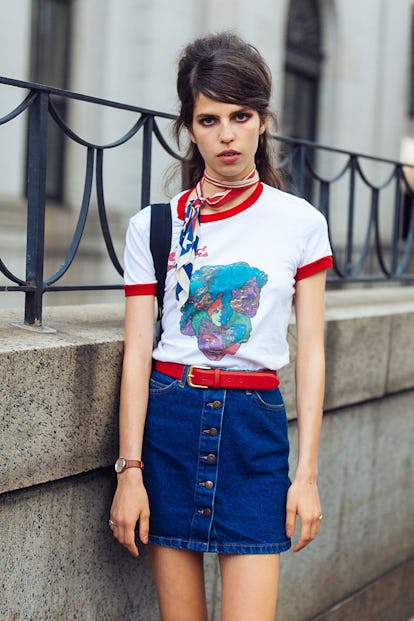 Melodie Jeng/Getty Images
Since Hayett McCarthy was scouted at a pub in London in 2015—mid-fight with her boyfriend, no less—the model has gone on to walk shows as memorable as Jacquemus' moving spring 2016 show with Baco the horse, shoot with photographers as storied as Steven Meisel, and land runway exclusives like Burberry, where she stole the show last year when, the day after David Bowie's death, she decided to walk the runway with her palms out, and "BOWIE" scrawled across her hands. Born in Lyon and raised in London, the French Algerian and British model, now one of the faces of Coach, is continuing to make her mark this season, having opened Creatures of the Wind in her favorite latex socks, plus walked shows like 3.1 Phillip Lim and Anna Sui. On her way to London Fashion Week, she shared her tips for standing out on the road—something the model more than knows about, if her completely sheer shirt last season at New York Fashion Week is any indication.
Occupation: On paper: model. But so, so many more on the side. I love to put gigs on and paint posters for them. I want to bring the poster back, like back in the '60s and '70s and the rave party era. I'm restless and in awe of my friends' talents and creativity; I always want to work with them or hook them up. Also a big bowling aficionada.
How you would describe your style: As eclectic as my musical tastes. In fact, they both affect each other.
Favorite store in London: Any charity shop. It goes to a good cause, too.
Favorite thrift stores: Not giving you my hidden gems. 😉
Nighttime look: Same look, but big red lips.
Style icons/inspirations: Bowie—he was colorful, gender neutral, versatile and curious.
Best recent discovery: Pumpernickel bagels from the big city where I live.
Style pet peeve: Coat below the shoulders. You look uncomfortable and like you're halfway there love!
Last purchase: A corset-shaped bag.
Lusting after: Those latex socks Creatures of the Wind gave me after the show, a collab with Tableau Vivant. I love latex.
Something you always carry with you: Almonds.
Something you would never wear: A law suit.
Fashion week go-tos: Snacks, wet wipes, extra shoes, and sanity.
Most prized possession in your closet: My foal fur cape, a present from my St.-Ouen [flea market] family!
Favorite accessories you own: I love ribbons and small neck scarves.
Music you're listening to right now: "This is Acid" by Maurice.
Book you're reading right now: The Vegetarian by Han Kang.
Five Instagram accounts you like to follow: @fattonyrap, @ellederape, @wot_u_sayintho, @shitmodelmgmt, and @chloewise.
Cross Dressing Off the Spring 2016 Runways
New York's Best Street Style Gets a Technicolor, Electrified, Animated Treatment