Model Ondria Hardin Has Figured Out the Secret to Just-Rolled-Out-of-Bed Waves
The blonde beauty reveals all the details of her hair, makeup, and fitness routine.
---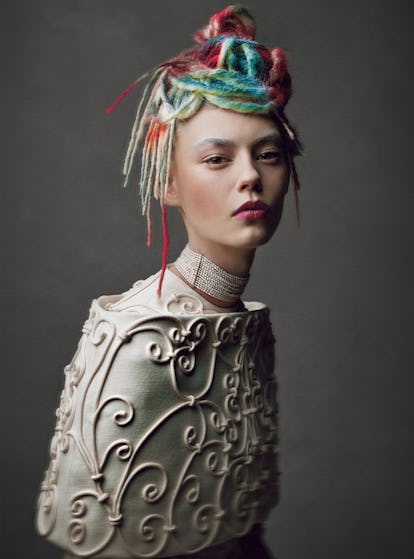 Photography by Patrick Demarchelier, styled by Edward Enninful.
Ondria Hardin has been a top model since the age of 15, when she made her debut with Chanel. Now, she's a regular on the runway and in the pages of magazines like W. Over the years, she's picked up plenty of beauty tips–such as the best facialist, homemade skincare mask, and more. Here, the North Carolina native shares her secrets.
Your look in three words: Comfortable, free, fresh!
Morning beauty ritual: Ice ice baby! Cold water and ice on your face/body will stimulate all your blood vessels and make you look more awake. Rubbing ice on your face when you wake up makes you look refreshed.
A good hair day starts with: A good wash for the day. I like using Alba Botanics Mango and Coconut Shampoo and Conditioner. I then let my hair air dry with some Privé by Laurent D Texturing Spray for that beach look. Then I'll throw it up in a bun to dry, take it down, then shake…and done!
Medicine cabinet snapshot: I love Lucas Pawpaw Ointment. It's good for chapped lips, dry skin, shiny highlighter and for your hands too. CosMedix Purity Cleanser is great as well.
Photos of Ondria Hardin in W
Photo by Alasdair McLellan, styled by Marie-Amélie Sauvé.
Photo by Mert Alas and Marcus Piggott, styled by Edward Enninful.
Photo by Craig McDean, styled by Edward Enninful.
Photo by Mert Alas and Marcus Piggott, styled by Edward Enninful.
Photo by Craig McDean, styled by Edward Enninful.
Photo by Craig McDean, styled by Edward Enninful.
Photo by Mert Alas and Marcus Piggott, styled by Edward Enninful.
Makeup miracles: Baking soda! It's great for everything and a good exfoliating scrub. I'll take three tablespoons of honey and two tablespoons of baking soda and mix them together well. Then, put it all over your face as a mask for 5-10 minutes and wash off. It's better to do this before shower because it's sticky!
Bronze or blush: Blush! NARS Orgasm works for every look.
Nails must be: Usually just a buff will do, but a good natural color is Essie Mademoiselle. As for a red, I'll use Essie Big Apple Red.
Go-to at-home treatment: Before I go to bed, I always rub coconut oil everywhere. It's a natural antiseptic and packed with moisture. I also put coconut oil in my hair and massage into my scalp as it helps prevent split ends.
Sheet mask or mud mask: Sheet mask. I love the SpaLife Gold Oxygenation Mask. If going the mud mask route, I like to use Glamglow Super-Mud Clearing Treatment.
Key to beauty from the inside out: Green tea! Soy protein shakes work best for women. And I love Cashews as they are a natural relaxer.
Exercise obsession: 100% Muay Thai. I go to Renzo Gracie Academy, and my trainer is PJ McMahon. My dog, Miu Miu, and I also go on frequent jogs… that counts, right?
Drink of choice: Vanilla soy protein power with chocolate soy milk and ice. Homemade… always!
Product that you borrow from the boys: Everything! I love a guys t-shirt that's worn out and baggy, it's so comfortable. I enjoy that vintage look. When I'm around the house boy boxers double as shorts. There is also The Crew 3-in-1 Shampoo Conditioner and Body Wash, which is amazing.
Product that you picked up from the pros: Yves Saint Laurent Touche Éclat concealer from momma Pat McGrath, and Crème de la Mer from Mr. Peter Phillips.
Favorite fragrance: Stella by Stella McCartney.
Appointment you'd love to nab: Melanie Grant gives the best facials, but she's in Australia so it's a long trip to get one!
Definite doppelgänger: Faye Dunaway.
Watch Jasmine Tookes at her fitting for the Victoria's Secret fashion show: