Model Scandals: Drugs, Divorce, and Justin Bieber
Not even the most beautiful women in the world are immune to social calamity.
---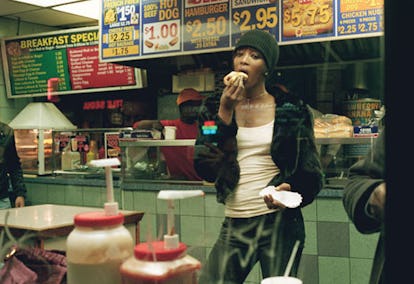 The Naomi Diaries After pleading guilty to assaulting her housekeeper, supermodel Naomi Campbell showed up to her mandatory community service in New York in furs, sequins, and hats. Campbell documented her experience with Steven Klein for W's June 2007 issue. "What do they expect me to do—walk in looking all drib and drab?" she told W. "I've never looked drib and drab in my life." We won't argue with that.
What Kate Did Supermodel Kate Moss went on a forced hiatus in September of 2005 when photos of the model allegedly snorting cocaine appeared on the front page of London's Daily Mirror, prompting H&M, Stella McCartney, Chanel, and Burberry to cancel her contracts. Less than a year later, all charges were dropped and Moss bounced back better than ever.
Je t'aime, Moi Non Plus Celebrity couples and messy divorces often go hand in hand, but Karen Elson and Jack White's 2011 split takes the guitar-shaped cake. When the couple announced their divorce in June 2011, they celebrated with a blowout in Nashville, but the apparent friendship ended in 2013 when Elson filed a restraining order against her former spouse. Stand by for the breakup album.
#ThatAwkwardMomentWhen Model and Instagram queen Kendall Jenner got a taste of the dark side of social media when a waitress at the Mercer Kitchen tweeted a claim that the model and Keeping up with the Kardashians star left in a huff without paying after being denied alcohol. "Anonymous" sources corroborated the report, but Jenner was quick to defend herself. "These rumors r absolutely ridiculous!" tweeted the young star. But r they?
Et tu, Marianne? When Laetita Casta traded Paris for London in 2000, many accused the model of relocating to avoid hefty French taxes. The move sparked such an outcry that then-interior minister Jean-Pierre Chevenement went on national television to denounce Casta and lecture on the benefits of living in France. It probably didn't help that Casta had been chosen as the model for the bust of Marianne, the symbol of the French Republic, less than one year earlier.
Hacker Alert Kate Upton joined the ranks of Jennifer Lawrence, Kirsten Dunst, and Lea Michele when it was revealed that she and boyfriend Justin Verlander were targets in the massive phone hacking of 2014. Private nude photos of the model were leaked on various websites, prompting a nation to reevaluate their iCloud settings. And fitness routines.
Bruni Royale Former first lady of France Carla Bruni is no stranger to the tabloids, but the former model found herself involved in a new kind of scandal in 2013 when hackers used the promise of Bruni's nude photos as a tool to lure international diplomats. "Almost everybody who received the email took the bait," said a source at the time. Quel scandale!
Dunn Deal Model Jourdan Dunn made news in July 2013 when she announced her dismissal from the Dior couture show for having large boobs. "I'm normally told I'm cancelled because I'm 'coloured' so being cancelled because off [sic] my boobs is a minor," she said, referencing an even bigger problem.
Pretty Young Things Youth is desirable, this we know. But it seems some models just can't wait to grow up. From Brooke Shields's role as a child prostitute in the 1978 film Pretty Baby to 10-year-old Thylane Blondeau's leopard-clad spread in French Vogue to 15-year-old Hailey Clauson's illegal runway walks (the CFDA bans runway models under 16 years old), the story of the too-young model is a tale as old as time.
Bieber's Babes Justin Bieber has been seen with quite a few models in his short, short life. He dined with Kendall Jenner in Paris, caught some sun with Shanina Shaik in Ibiza, chatted with Barbara Palvin on Roberto Cavalli's yacht, and, last but not least, cozied up to Miranda Kerr after the 2012 Victoria's Secret Show. Bieber bragged about the supposed encounter to Kerr's ex-husband Orlando Bloom, prompting Bloom to throw a punch or two. Ah, the life of a pop star.