Model Teddy Quinlivan Comes Out as Transgender
Quinlivan is one of the top 20 models walking NYFW, and her announcement makes her the most high profile trans model working today.
---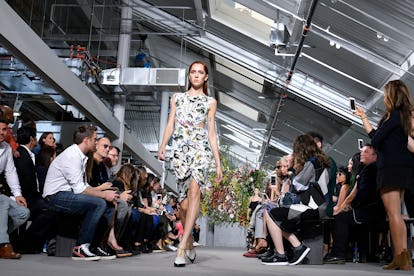 Peter White
Teddy Quinlivan has already had quite the fashion week. She's walked 10 shows, among them Monse, Caroline Herrera, Jason Wu and Jeremy Scott. This week, she also decided that now is the right time to disclose that she's transgender, instantly making her one of the highest profile transgender models—she's currently ranked in the top 20 for runway at models.com—in the industry and a new voice for her community.
"I've decided to reveal my trans identity because of the political climate in the world right now—particularly in the United States," Quinlivan, 23, told CNN stlye in an exclusive interview. "We made an amazing progression under the Obama administration, and since the new administration took office there's been a kind of backlash.
"There's been violence against transgender people—particularly transgender women of color —since before I even knew what transgender was. I just felt a great sense of urgency. I'm very fortunate to be in (a) position (that) I never really thought I would be. It's really important to take advantage of a time like this."
Quinlivan says that she transitioned at 16, and considered herself lucky to be able to able to blend in. "That privilege gave me a lot of confidence to walk down the street, date and (work) in the fashion industry, where people I would presume I was a 'normal' girl," she told CNN. Though, she's aware she may face a backlash and is worried about her safety, her "optimism outweighs the fear."
Quinlivan also paired the announcement with the debut of a mini-documentary on her Instagram.
"I remember living my whole life as male, but feeling like I was playing a part," she says in the first of three clips. "I always knew I was female like just in my soul, in my heart in my brain. I kind of knew I had to pretend to be male to appease like everybody else. At one point, I just stopped giving a fuck."
Quinlivan was discovered back in 2015 by Louis Vuitton creative director Nicolas Ghesquière, and her career really took off during the Fall/Winter 2016 season, when her street style caught just as much attention as her walk on the runway.
"People who are authentic and don't care what people think," the model told us at the time about who she considers her fashion icons. "They don't need to try to be cool all of the time."
She's been a catwalk mainstay ever since, and during the most recent couture week walked for Dior, Maison Margiela, Giambattista Valli and Valentino.
Quinlivan, however, is not alone as a transgender fashion model. Hari Nef, Andreja Pejić, Avie Acosta and Casil McArthur. Incidentally, Quinlivan also walked last season's Marc Jacobs show that was already notable for a designer of Jacobs's clout for casting a record number of transgender models to walk alongside the like of Kendall Jenner. We would not be surprised if Quinlivan shows up later today on his runway again.
"I respect, admire and support Teddy's decision to come out as transgender," Jacobs wrote in an e-mail to CNN. "Now more than ever it is vital that we pledge our allegiance to the LGBT community and use our voices to encourage and inspire acceptance, equality, understanding and love."
Related: It's No Longer a Big Deal to Cast Trans Models in Fashion Shows—And That's a Big Deal
How Trans Role Model Casil McArthur Learned to Express Himself Through Cosplay: