Chloe and Halle Bailey, Jeremy Scott's Newest Front Row Stars, on Beyoncé, Their New Album, and the Black-ish Spinoff
"She's like, 'Let the world catch up to you. You girls' talent is so immense, don't dumb it down for the world.'"
---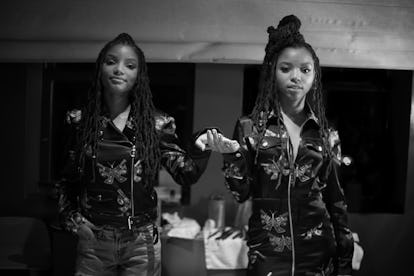 When they first entered Jeremy Scott's New York showroom Friday, Chloe and Halle Bailey were a bit overwhelmed. They were confronted by a kaleidoscope of colors, a daunting array of garments, and a wide mandate in the designer's archives. That is, the sisters—who are musicians, actors, and protégées of Beyoncé signed to her Parkwood Entertainment label—had arrived with a deceptively simple assignment: to select looks for the designer's Spring 2018 show, which they planned to attend that night. But that left them with a lot of choice.
They eventually emerged, as they often do, with coordinating looks. "We're the same, but we're different as well," Chloe said. "We like to incorporate that through our fashion." She opted for a black sleeveless minidress printed with trompe l'oeil butterflies formed out of two pistols in blues, pinks, yellows, and greens, with blue and black calf-hair platform shoes, while her younger sister selected the same print in a silk motorcycle jacket, paired with distressed Levi's and platform heels in black with yellow flowers—"our favorite pieces, and the ones that were cohesive with one another," Chloe described.
These were the looks that hung in the wardrobe of their Midtown hotel room Friday evening, just more than an hour before the show was scheduled to begin. It was a crisp, early fall night, and as they explained their selection, the doorbell rung a couple times—at one point, to let their dad Doug, who is also their manager and frequent fashion show companion, in, and then to welcome in a room-service delivery of spaghetti. ("I love carbs," Chloe later said enthusiastically—especially as vegans, which she and Hall have been for more than two years now.)
Though Friday marked their first time at a Jeremy Scott show—and their first show of the Spring 2018 season—the sisters are now nearly fashion week veterans. They attended their first fashion show, Tory Burch's Spring 2017 runway, almost exactly a year ago, proceeding to sit in the front row at the Louis Vuitton show later that season (along with Sasha Lane, their "dear friend," as Chloe described her). Then, earlier this year, the sisters got a glimpse of the other side, making their runway debut at Dolce & Gabbana's Fall 2017 show. They sauntered down the runway in minidresses, tiaras, and red boots—holding hands all the while.
"It's like a different stage," Halle said, comparing walking a runway to performing music. Still, "it was very different for us because we're used to, we go on stage, we sing, and we feel this, like…" She exhaled with a sigh, a release of tension. "We worked so hard." When they finished their brief lap of the runway, by contrast, "We were like, 'Oh, that's it? Cool.'" (She added, as a disclaimer, "but it was really fun.")
The sisters had just arrived in New York the previous day, fresh off a week of filming the first few episodes of Grown-ish, the new Black-ish spinoff in which Yara Shahidi's character Zoey Johnson departs for college. Chloe and Halle already get mistaken for twins "all the time," they told me in unison (perhaps an understandable misconception, considering they speak in unison, often finish each other's sentences, and dress in coordinating looks), so it probably won't help that, in the series, they play twin track stars Skylar and Jazz.
The Bailey sisters were already close friends of their co-star Shahidi—last year, she described Chloe and Halle as her "BFFs"; they also share a fan in Michelle Obama—so being cast alongside her, as well as fellow Dolce & Gabbana model Luka Sabbat, was "a great feeling." And though Chloe and Halle are now best known as musicians, they acted on screen as children growing up in Atlanta, making Grown-ish something of a return to form for both. (Indeed, as we drove to the show later that night, the sisters' mom Courtney pulled out her phone to show me an image of Chloe, at age three, with Beyoncé, then 21, from the 2003 movie-musical Fighting Temptations, in which Chloe played a younger version of her eventual mentor's character.)
Chloe and Halle were making the most of their New York Fashion Week sojourn. In addition to the Jeremy Scott show, they stopped by a party hosted by Refinery29, where they finally met Issa Rae, the creator and star of Insecure, for the first time. They both avidly watch the series, which featured their song "Red Lights" in its first season, and it appears the admiration is mutual: On Thursday, Rae told them she was "so excited to see you guys' acting debut," Chloe recalled with a small gasp. "I was like, You know?"
But for all the activity in New York, by Sunday, they would return to Los Angeles to continue filming Grown-ish. The Freeform series, which is slated for premiere early next year, was just one of several projects Chloe and Halle were juggling. For example, back in Los Angeles, the sisters had the opportunity to pay homage to their mentor (and rumored fellow vegan) for her recent 36th birthday. Her mother, Tina Knowles, "wanted to do something spectacular for her daughter," Halle said, so she recruited some of Beyoncé's closest friends and collaborators to recreate a now-iconic image from the Lemonade visual album—Beyoncé in a wide-brimmed hat, a black dress, a bib necklace, and two thick braids. Knowles provided each of the participants—including Serena Williams, Michelle Obama, Ingrid, and even Beyoncé's daughter Blue Ivy as well as Chloe and Halle—with a hat, braids included. She photographed the whole thing on an iPhone.
Plus, earlier in the summer, they released a new project entitled The Two of Us that they described, upon its debut, as neither album nor mixtape, and that presages a full-length album they hope to complete soon.
"All of the songs were rejects we knew weren't going to make the album, but we still kind of liked," Chloe explained as a makeup artist blotted electric blue shadow onto her lids. "We warped them together into one long song. It was really fun to create, because it's, like, 25 minutes long." But their album is coming, too: "It's like, 85, 90 percent done," Halle explained, adding that they were hoping to begin releasing new music early next year.
They write, record, and produce their own music at their home studio in Los Angeles; once in a while, Beyoncé will drop in like a fairy godmother with feedback.
"She allows us to have our own mind and our own thoughts and creativity," Chloe said. "Her main thing, she wants us to do what we want to do," Halle added. "She's like, 'Let the world catch up to you. You girls' talent is so immense, don't dumb it down for the world.'" It's a message they also communicate on "Simple," one of The Two of Us's standout songs: "No, I'm not calling anybody out, it's just people telling us, 'Oh you know your stuff's too complex for the average ear to get it. Maybe you should just be simple,'" Chloe murmurs, singsong.
"We hope that one day we'll be legends, because legends break barriers and don't follow the rules, you know?" Halle said.
Though Chloe and Halle had just met designer Jeremy Scott earlier in the day, he has long cultivated relationships with musicians: Björk was reportedly his first celebrity client, and his inner circle currently comprises Katy Perry, Miley Cyrus, and Madonna. The sisters slipped into their Scott-designed looks—"Oh, come on," their mom, Courtney, cried approvingly when she saw her daughters transformed—and Chloe daubed her favorite oil, which she dubbed "the smell-good" and smells of cotton candy, onto her wrists. A last-minute change of hoop earrings for studs, and they were ready to go: The four Baileys hurried out to the car that would shepherd them downtown to Spring Studios. (Back in Los Angeles, Chloe had just passed her driving test and obtained a bright blue Mini Cooper she christened Cleo, making her her own chauffeur.)
When they arrived at the show, Chloe and Halle took their seats just down the front row from Lionel Richie and Jimmy Iovine, who their mother introduced as a "legend." They sidled up to Erika Jayne of The Real Housewives of Beverly Hills, of which, apparently, they are big fans, and began chatting animatedly with the reality star. The lights dimmed, and Scott's retrospective of a show got underway, with models like Karlie Kloss, Sofia Richie, Gigi Hadid, Devon Aoki, Coco Rocha, and even Liberty Ross, the '90s supermodel married to Iovine, making their way down the runway in Scott's silver-sequined club kid attire.
After the lights came back up and before Chloe and Hall dissolved into the crowd, they offered their final review: "It was fantastic," Chloe said. "I loved how it shined under the lights."
"I liked all the sparkles," her sister echoed. "Beautiful."
Chloe and Halle Bailey Get Ready for Their First Jeremy Scott Fashion Show
Photo by Nick DeLieto for W Magazine.
Photo by Nick DeLieto for W Magazine.
Photo by Nick DeLieto for W Magazine.
Photo by Nick DeLieto for W Magazine.
Photo by Nick DeLieto for W Magazine.
Photo by Nick DeLieto for W Magazine.
Photo by Nick DeLieto for W Magazine.
Photo by Nick DeLieto for W Magazine.
Photo by Nick DeLieto for W Magazine.
Photo by Nick DeLieto for W Magazine.
Related: Lionel Richie Finally Saw Sofie Richie Walk a Runway at Jeremy Scott Spring 2018