Like Kyle MacLachlan and Lil Yachty, Jeremy Scott Has Always Been an Undercover UGG Fan
"I couldn't pass the opportunity to give my own take on these iconic classics," says the designer.
---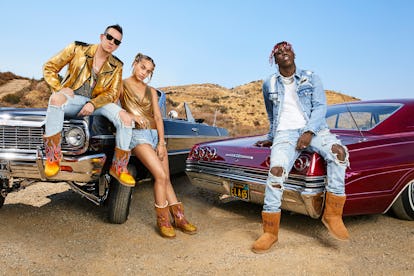 On Sunday, Katy Perry will host MTV's 2017 Video Music Awards. "We'll see what she wears," teased her longtime friend, the fashion designer Jeremy Scott the night before.
"She'll be doing lots of outfit changes," he added with a smile, cautious to keep mum of any details. "You know Katy, she loves an outfit change."
Scott has history with the show; he's dressed a number of red carpet faces, including past host Miley Cyrus, and in 2015, was even asked to redesign its trophy (now known as the "Moon Person" in lieu of the "Moonman"). "It's very much anything goes," he said of the award ceremony. "People can really let their freak flag fly." He'll be attending again this year, he shared, and following the ceremony, playing host himself—at an after party celebrating the launch of his newest collaboration, a colorful, crystal-embellished collection with UGG.
"I couldn't pass the opportunity to give my own take on these iconic classics," said Scott of the sheepskin boots. Who can forget the frenzy they caused when they arrived on the Hollywood scene in the early 2000s? "I was an undercover UGG fan."
Ranging between $90 to $1,195, it's a limited edition, eight-piece collection featuring styles for all—women, men, kids and babies—with Scott's familiar bold touch found throughout. The designs include red and yellow flames—one bedazzled with Swarovski crystals and another in embroidered appliqué—hand-sewn beads, jeweled hardware, and as "a nod to hip hop", a pair with "UGG LIFE" written across each boot.
The collection is also an homage to Los Angeles, he shared: "It's the land of make-believe. You can be anything, and there is this kind of long history of that, our whole cinematic history. I also just love the sunlight and the positivity of our climate here. I get really excited about that, and I wanted to capture that mood with the desert, sun, heat with the ad campaign."
Shot in a desert outside L.A., the campaign stars rapper Lil Yachty and model Jasmine Sanders.
"Yachty was one of my guests for the Met Gala, and when he came to this fitting when we met, he was wearing a pair of UGG sandals, the mules," explained Scott. "I just thought, cool, he already loves it and wears it. I love the authenticity of that, and I could just imagine him wearing the flame ones or "UGG LIFE" ones…Jasmine has been someone that I've championed since she started. I was the first person to put her on the runway. We have long history, and I love that she can be different characters and that she's multiethnic. I love that beauty of her having different cultures, the variety and diversity."
These days, the designer is busy preparing his upcoming Fashion Week show, he shared, a momentous occasion marking his 20 year anniversary next month since launching in 1997.
"It's a big moment and that's exciting," he said. "Just plowing forward, steadfast and furious."
Watch: Jasmine Sanders, Better Known as Golden Barbie, Can Definitely Sing, But Only in the Shower