Meet Sasha Lane, the Free Spirited Star of American Honey
The exciting wild child outshining Shia LaBoeuf and Riley Keough in Andrea Arnold's Cannes-winning new film.
---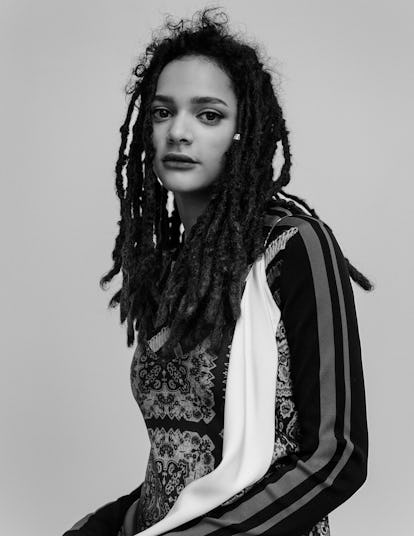 Siyoung Song, styled by Caroline Grosso. Hair by Naivasha Johnson for Oribe at Exclusive Artists, makeup by Janice Kinjo for NARS at Exclusive Artists. Produced by Biel Parklee.
This past May, Sasha Lane was in her suite at the Carlton Hotel, in Cannes. She was bunking with Riley Keough, her co-star in American Honey, which was premiering the next day at the Cannes Film Festival. The film, directed by Andrea Arnold, had an air of mystery about it: The studio, Pulse, was unusually tight-lipped and the cast was not doing any pre-press. "It was such a special experience, it's so hard to put into words," was all Lane would say. She exchanged a knowing glance with Keough from across the room.
The film, which would go on to win the Jury Prize at Cannes, turned out to be the poetic, candid coming-of-age story of Star (Lane), a free-spirited teenager who flees her broken home to join a group of nomadic kids she meets at a local Wal-Mart. After a couple of days on the road, Star finds herself in a love triangle with the tribe's ringleaders, the rambunctious Jake (Shia LaBeouf) and his controlling girlfriend Krystal (Keough), with whom Star constantly butts heads.
To make the film, Lane and 15 other young actors, many of them untrained, traveled cross-country in a van for two months, sleeping and eating in the same motels and diners they frequent in the film. Onscreen, their chemistry is electric. "To hop in a van with a bunch of people you've been living life with — it's so indescribable, there's no other bond like that," Lane, 20, said earlier this week. "We were all looking for something and found each other. My mental state changed from hopeless to hopeful."
Arnold discovered her Texas-born leading woman on a beach in Florida, where Lane, then just 19, was enjoying her freshman year spring break from Texas State University. "She came up to me and said she was doing a movie and looking for her 'star,'" Lane recalled. "If it would have been anyone else I would have been like 'Yeah, okay bye.' But there's something about her energy." The initial meeting was followed by an audition during which Lane danced in a Wal-Mart parking lot and discussed her personal life and dreams with the 55-year-old English director. She had never considered a career in acting and signed on to the role out of "pure instinct."
"Everything about acting was either the opposite of my personality, or it just didn't seem like something I wanted to be a part of," Lane admitted. Young and headstrong, she is determined to do Hollywood her "own way," an attitude she likely shares with her co-star LaBeouf, with whom she has undeniable chemistry.
The film feels voyeuristic thanks to Arnold, who set up a world and allowed her actors to simply live in it. "Andrea would give us something to talk about, but then we'd be free to do whatever," said Lane. "It was very free." An air of authenticity pervades the film: the songs the kids blasted in the van came from their own playlists (Rihanna, Alina Baraz, Låpsley), and true to the characters they play, Lane and Keough didn't become friends until after they finished filming (now they're inseparable).
Lane's free-spiritedness has been catching the eyes of many, including Louis Vuitton's creative director, Nicholas Ghesquière, who is flying her to Paris to sit front row at his Spring 2017 show next month. Until then, she is carrying on her nomadic life in Los Angeles, where she just wrapped a short film about a black mother and her bi-racial daughter. "I'm flowing and letting things happen as they happen," Lane said. "I want to be living out of suitcases on the road. I'm open to the universe, whatever comes my way. I feel like a hippie — but hey, it works."