Lionel Richie Finally Saw Sofia Richie Walk a Runway at Jeremy Scott Spring 2018
"She knows I'm here, so she's going to really be a ham sandwich now," Richie said before the show.
---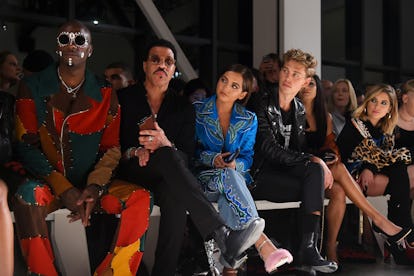 Ben Gabbe/Getty Images
Though Sofia Richie, the daughter of musician Lionel Richie and younger sister of actress Nicole Richie, made her runway debut in February 2016, "not one family member" had seen her walk a show as of Thursday, the second day of New York Fashion Week Spring 2018, when she appeared in the front row at Kith. All that would change the next night at Jeremy Scott's Spring 2018 show.
It was nearly 9:45 when Lionel Richie, his wife Diane Alexander, and their son—Sofia's elder brother, Miles Brockman Richie—emerged into the sixth-floor gallery of Spring Studios, where Scott was soon to present his latest collection. (The show was scheduled for 9 p.m., but Scott could be forgiven for being more than a bit tardy, given that he was celebrating the 20th anniversary of his eponymous label. After all, he probably needed to take it all in.) Sofia was slated to walk in the show, whose all-star cast—many of whom made their way down from Brandon Maxwell's show earlier in the evening—also included models like Coco Rocha, Karlie Kloss, Soo Joo Park, Gigi Hadid, and Devon Aoki, who made her runway debut with Jeremy Scott when she was 13.
"The exciting thing is going to be the fact that she knows I'm here, so she's going to really be a ham sandwich now," Richie said of his daughter just before the show. "She says, 'Oh, my God, dad, I'm nervous.' I said, 'Well, that's what you get when your parents show up.' But you know what it is, this is the greatest support for her, because she is so excited and new in the business and young in the business," he continued, "and I know what it is when you want someone to show up and make it work. Dad's here."
Down the row from Richie, Beyoncé protégées Chloe and Halle Bailey sat next to Real Housewives of Beverly Hills star Erika Jayne; Paris Hilton showed up with her sister Nicki, pausing for selfies as they made their way to their seats; and Vanessa Hudgens perched across the way from Congolese electronic artist and Jay Z signee Young Paris.But perhaps the most unexpected sighting in the front row was Jimmy Iovine, the music mogul and Interscope Records co-founder (as well as the Beats by Dre co-founder), whose wife, the supermodel Liberty Ross, was also walking the show. (Iovine, unlike many of the front-row celebrities, was not wearing Scott, but rather, "whatever jumped on me" as he departed for the show.)
Two nights previously, he and Ross, whom he married early last year in a ceremony in Malibu, had attended Tom Ford's show—as spectators, rather than participants. His review: "I thought he killed it," he said. "I was thrilled. That was amazing. The women's clothes were awesome. He looked like he wanted to make a point, and he made it." What was that point? "Just that 'I'm gonna kill it,'" he elaborated. "And he killed it."
A few seats away, actress Isabela Moner, the 16-year-old star of Transformers: The Last Night was taking in her first show at her first New York Fashion Week and "talking astrology" with Lionel Richie. She was clad in a blue silk jacket and matching bustier, the first thing she spotted at "this huge warehouse" where Scott houses his designs. "I grabbed it, and I was like, alright, let's go. I love Jeremy," she proclaimed.
A few minutes before 10 p.m., the lights dimmed and a hush fell over the gallery. Aoki marched out in a silver sequined motorcycle jacket and matching combat boots; later in the show, Jourdan Dunn took a lap in a black leotard with "Viva Avant Garde" scrawled across in spray-painted block capitals. It was a throwback to what Scott described, in an Instagram earlier in the day, as "the picture that started it all"—Scott, clad in a black tank of his own design with the same lettering and blue jeans, Aoki at his side. (Last month, Scott described his 20th anniversary as "Just plowing forward, steadfast and furious.") After the finale, Scott emerge to take a celebratory lap of his own. His look: a black hoodie with that photo, taken by Marcus Mam, screen-printed on the center.
"It was fantastic," Chloe Bailey said after the show. "I loved how it shined under the lights."
"Beautiful," her sister echoed. "I liked all the sparkles."
Related: Kate Bosworth, Ashley Benson, Sistine Stallone, and More Take a Break from Fashion Week to Contemplate Life as an It Girl
Demi Lovato prepares for the Met Gala with Jeremy Scott: