LeBron James Walked at Kith Spring 2018—and Sang Along to Kanye West
Even Tommy Hilfiger stood up to capture it all on camera.
---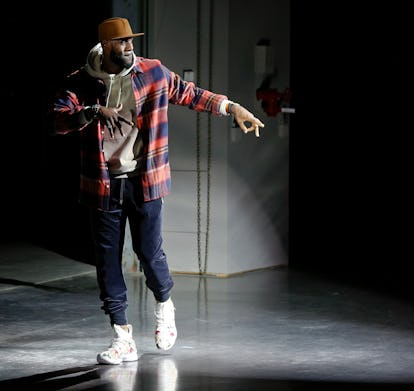 Brian Ach/Getty Images
"What time is Calvin Klein? Now?" the Off-White designer and noted Kanye West collaborator Virgil Abloh casually asked a friend of one of New York Fashion Week's most hotly anticipated shows. Abloh, along with Tommy Hilfiger, on the other hand, had opted to spend Thursday night seated on metal bleachers all the way over at the Hudson River, tucked inside Classic Car Club Manhattan, for the Spring 2018 showing of Kith—the mega street, shoe, and sportswear brand operated by Ronnie Fieg, which has collaborated with everyone from Nike, New Balance, and Bergdorf Goodman to Power Rangers, Rugrats, and Cap'n Crunch.
Fieg's roster of partners is so expansive, it's enough to make fellow kings of collaboration like Abloh and Hilfiger, the latter of whom has an upcoming collab with Vetements, jealous. Except that both the Off-White and the signature American designer assured they were there to support their long-time friend Fieg, with Abloh in particular insisting there's "not even the slightest" bit of competition among them all.
"Ronnie and I collaborate regularly—he's been one of the main people in New York I always bounce ideas off of," Abloh said before the show. "I look at him as like a leader in this class of building a brand that's akin to Americana's next iteration of Tommy Hilfiger, who I see here, and Ralph Lauren."
Hilfiger, who's known Fieg for over 20 years, continued piling on the praise, adding that Fieg is "taking streetwear to another level"—though taking to care to point out he had a bit to do with that: "I think he was influenced by me, looking back to the '90s and taking the oversize," he said. "But I'm also influenced by him because he's simplified it in what I think is a very sophisticated way."
Still, as Abloh pointed out, "collaboration isn't even that much of an interesting thing anymore—you do a sneaker here, a project there, that's design in 2017," and the lights dimmed to make for a show that still blew both designers away, and not exactly because he showed his now usual nearly 100 looks. In between armies of models, screens played footage of soccer fields and basketball courts around New York—this season's collection was, after all, called Kith Sport—and, at one point, a straight-up ad for Fieg's latest upcoming collab with Nike, which the designer said earlier this week he's been working on for the past year.
Fieg more than made up for the shameless plug, however, when the inspiration for his latest footwear, a reworking of Nike's Air Maestro II High, came out himself: the NBA star Scotttie Pippen made for a raucous intermission when he strolled down the runway, simply grinning at the crowd assembled and applauding his presence.
However, even Pippen was soon upstaged by another of Fieg's latest collaborators: Another intermission found none other than LeBron James taking the floor, and not just grinning, but singing along to Kanye West and Jay-Z's "HAM" to boot. Abloh somehow leaned even further forward in his seat, and Hilfiger unabashedly stood up to get it all on camera.
James's cameo was no doubt a welcome distraction for Sofia Richie, another front-rower, who was appropriately decked out in a Kith track suit, and who had already been fretting about the next day before the show. Though that night she'd managed to escape and hang with Scott Disick, she'd brought her family along to town this Fashion Week for the first time ever, as her parents—Lionel Richie and Diane Alexander—were looking to catch her walk the runway for her "really good friend" Jeremy Scott that time the next night.
"Not one family member has ever seen me walk a runway. Ever. Ever," Richie said, agreeing wholeheartedly when I let it slip out that that was kind of, well, terrible. "They'll send me pictures after and be like, 'You look great.' But they're so excited to actually be there—and I'm extra nervous."
Related: Kith Comes to New York Fashion Week With a Mega Show
Gigi Hadid Only Gets Starstruck for Kobe Bryant: