Lionel Richie Smells Good
The music legend took a break from his tour to attend the Fragrance Foundation Awards in New York.
---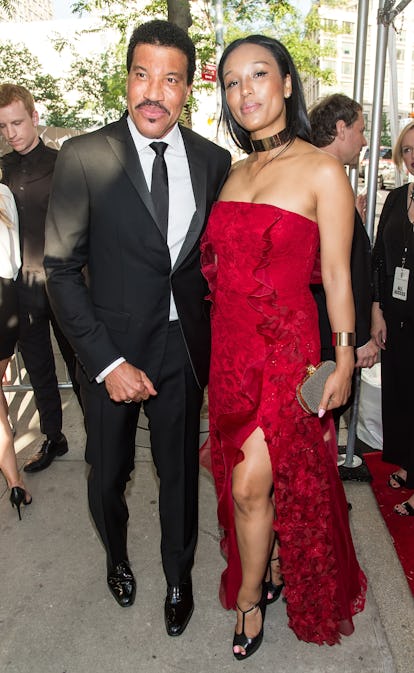 The Fragrance Foundation Awards has had more than its share of bold-faced name presenters, from Taylor Swift to Kendall Jenner. This year, the one who received the biggest round of applause was Lionel Richie. The musician, who's been experiencing quite the comeback, took a break from his tour to talk to us about his plate line, his silverware, his teapots ("Hello, is it tea you're looking for?") and how he's starting to dabble into the wild world of fragrance.
You're here with all the big fragrance players tonight. How does it feel? What a night! I have to tell you, when I walked out on stage to present, I said, "What? No band?" I'm feeling like a fish out of water tonight.
Are you friends with [the awards host] Alec Baldwin? He and I have a joke about how I met his wife. She dropped her Chapstick and it rolled under my table. She crawled under my table to retrieve it, and came up between my legs and said, "Hello. I found my Chapstick." That's how we met!
Oh my god. He remembered that and I said, "Please don't tell that joke tonight."
Was this recent? It was his current wife, Hilaria? Yes.
Let's talk fragrance. Are you wearing fragrance tonight? I stopped wearing fragrance a long time ago and I started getting into oils. [Perfumer Sophia Grojsman, the night's Lifetime Achievement Award recipient] said it right in her speech: More natural and simpler. That's what I've been doing. Because when something is too fragrancy, it's overwhelming.
It gives you a headache. It gives you a headache, but no one wants to say that.
Especially not in this crowd! So I found myself saying to [girlfriend] Lisa [Chin Parigi], there we are. More natural and more fresh.
When do you plan on launching? We're still working on it.
Lisa, what fragrance do you wear? Lisa: Dolce Blue women's. It's very fresh. And Marc Jacobs Decadence. It's intense, but I wear both at different times.
Tell us about your projects, Lionel. How did you get into platewear? Lionel: By sitting at so many dinners and thinking, you know what? I can do this better. I'd come home and think it needs to be like this. People would come over for dinner and ask, "Whose plate is this?" I'd say, "Mine."
So you just started working on them? It's just like songwriting. That's how I got into the songwriting business. You listen to a song and say, "That 's a number one record?"
"I could write that with one hand tied behind my back." Right! And I didn't know there was a pop department and an R&B department. I just figured I was going against the Beatles or whoever. They had to school me after I came out with "Say you, Say me." They said, "Rich. What category are you shooting for?" I said, "What categories are you talking about?" I mean, Motown is a black company, so we had a music company. I didn't know.
So you're expanding into other categories? I'm doing my homework now. I'm just kind of visiting all the other creative outlets.
Cool. I am so into this world of creativity, because I didn't realize when I opened my home line, which I've been doing this at my house for the longest time, people came to me and said, "This isn't on the market. Why don't you put this on the market?"
You've had it yourself for a while? I started doing it only for me.
For how many years? Four years.
So, fragrance is next? Fragrance is coming. It's a year away.
It'll be interesting to see if it's like making music. Both use the terminology "notes." How interesting is that? They kept saying "notes," and I'm like, "What kind of notes are you talking about?
Right. "B flat?" That is so interesting because it's really cerebral. It really is. What happens when I'm really into a song? I close my eyes. What happens when you find the right fragrance? You close your eyes. It's how it makes you feel. There are only 12 notes, but it's all about the combination of them. When you go to a movie and the lady [on the screen] says, "Don't leave me," and you started crying? Well, "Don't leave me" is fine, but let me put that violin part right in the middle of "Don't leave me." You're crying because of that note.
That stirring music… That was the right note. And to be that person who knows the right note to make you cry.
Yep. It's the same with fragrance. Not what makes you cry, but what makes you attracted to someone. What was your first fragrance? I was the Brut, Canoe guy.
Canoe! Oh god. "What's that you're wearing?" [low voice] "Canoe…" And Jade East was the only one I couldn't go near.
Jade East! Was that like Hai Karate? Same category. I couldn't go there. There was another one called Andromeda. Then I discovered, it was when I started performing that I realized I had to give up certain types of cologne.
Why? Because when you're on stage, you're going to sweat. So why would I want to put on something that's going to smell worse because of the body chemistry? So then I started going into natural oils and thinking, "Ok. Well, coconut works well with me. And maybe a little bit of tangerine with the coconut." So when you walk into the room and pass me, you go, "What's that?" And you do so automatically because it's friendly. It's friendly because it's familiar. But the more you sweat, the better it gets. You follow me?
There's your tagline for when you do your fragrance commercial: The more you sweat, the better it gets. How long have you been doing the oils? For two years. The perfume stuff is where it is now. That and the body lotion and the fragrances. I want the room to smell not like a hotel room. And I want my suite to be like my suite, so I want my candles and all that.
So you're talking wearable and home? Wearable as well as home. And of course, we met the guys from [perfumer house] Firmenich. They were wonderful. They said, "You want to play around? Let us introduce you to a couple of noses."
You like that term? Very well. I thought at first, it might have been a snobby situation, but then I realized the nose is the person you want to know.
One last question: Did your daughter Nicole have any influence on you in creating fragrance? She has experience there. What's so interesting now is, I use all my kids as barometers. If I want the truth, I ask them. See, I'm in the business of bullshit. We get a lot of bullshit. And the more successful you get, the MORE bullshit. So, I can have some great designer come in and he's cutting something and he says [speaks in snobby French accent], "Ooh, Lionel, it's going to be incredible!" Then Nicole walks in and says, "Dad? Take that off."
"You look ridiculous." You look ridiculous. And so from there, you go ask the rest of the questions. I've got a 17-, a 22-year-old and Nicole. And now, I'm Pop-Pop. They're all afraid of one thing: Pop-Pop looks good or Pop-Pop looks silly. You use the army you have.
Photos: Lionel Richie Smells Good
Lionel Richie with Lisa Parigi at the Fragrance Foundation Awards in New York, New York, June 2016. Photo by Gilbert Carrasquillo/FilmMagic.
Lionel Richie performs at the Songwriters' Hall of Fame Awards in New York, New York, June 2016. Photo by Getty Images.
Lionel Richie at the Fragrance Foundation Awards in New York, New York, June 2016. Photo by Getty Images.
Lionel Richie with Tracee Ellis Ross at the Fragrance Foundation Awards in New York, New York, June 2016. Photo by Getty Images.
Lionel Richie at the Fragrance Foundation Awards in New York, New York, June 2016. Photo by Getty Images.
Lionel Richie performs in Saõ Paulo, Brazil, March 2016. Photo by Getty Images.