Models and Casting Director Share Their Side of That Balenciaga Casting
Maida Gregori Boina calls the accusation "false," but several notable models have publically thanked James Scully for speaking up.
---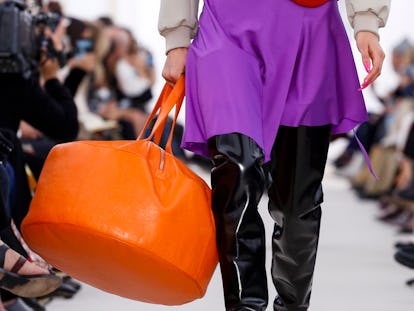 Valerio Mezzanotti / NOWFASHION
What exactly happened at the infamous Balenciaga casting that has become the talk of Paris Fashion Week? The story is quickly becoming fashion's Rashomon with different parties delivering different versions of the incident.
The story first went public through an Instagram post by casting director James Scully, who was not involved in the casting but had promised to use his platform to call out any model mistreatment he heard about in the industry. He wrote that several models had told him that they showed up the Balenciaga casting only to be told to wait in a stairway for about three hours. At one point, the lights in the stairway were turned off while the casting directors in question, Maida Gregori Boina and Rami Fernandes, went off to have lunch.
Balenciaga quickly released their own statement clarifying that they were aware of the incident and had cut ties with Boina and Fernandes. They also said they delivered written apologies to all models affected through their agencies.
Now, however, Boina has come forward to give her side of the story.
"It is important to stop the spread of rumours and set the record straight," Boina wrote in an e-mail to Business of Fashion. "To directly address these accusations, the models did not wait for three hours in the dark, not even one hour. We personally ate our lunch in the casting facility and—without question—we did not lock the models in the stairwell and turn out the lights. That would be completely inhumane."
Boine explained that models were made to wait in a stairwell because the reception area at Balenciaga's headquarters was unavailable. She also says claimed the reason that lights were out temporarily was because the building had lost power for a period of time. She called the story "inaccurate and libelous."
"There is no question that there continues to be social and racial inequality in the industry. While it is extremely important to raise awareness, it is also necessary to research the source and details of any story to ensure we elevate our cause and make progress," she added.
However, several models have come forward in comments on Scully's Instagram to share their sides of the story or other incidents involving the casting directors.
"I was one of this 150 girls waiting in this stairwell, Hopefully, I'm 27 now, and it's not my real job, but if I would have been younger and more into this, I would have been so destroyed by this kind of people or treatment," commented model Judith Schiltz. "Personally, I decided to leave the casting, just before it's was my turn. Just after I saw the casting director screaming at us to go out – Outside, in the dark – and told us that we are like groupies in a concert, and how incredible and unbearable it was. I could tell so much detail who made me SO ANGRY, but actually, I was happy to leave this casting after three hours of waiting, because now, I know why it's always so hard to me, to just imagine works for this world : It's not only fear, it's mostly respect for myself. SO SPEAK PLEASE."
"Maida would request me season after season to do the exact same thing," commented model Mollie Gondi. "Lock me in a room for 3 hours while everyone panicked, only to never, ever book me. The apology to the agencies from the fashion house is laughable because the agents have known this for years and don't think twice because they want their girl in the show."
Other models also came forward in the comments to applaud Scully for blowing the whistle in the first place and to share other tales of mistreatment they've endured.
"This been happened for years in my time in this time," wrote now retired Russian model Anastassia Khozissova. "Models been traumatized and treated like animals always. They never had voice until social media came, but even then if you speak truth no one want to hear you."
"Hit the nail on the head, I remember years ago for the Jil Sander casting Meida and Ramy would call you there for 15:00 let's say and immediately go to lunch for three hours, it was widely known about but not spoken of because everyone wants the chance for an exclusive or just to walk for such a prestigious brand," wrote male model Michael Armenakis.
"Preach. Also you should be casting more just to bring more justice and equality to this industry," wrote Joan Smalls.
"Love you James! You have ALWAYS done the right thing and that always stuck out in my mind about you. You've always been so kind, loving, respectful, and inclusive so thank you for that," wrote Hillary Rhoda.
Male supermodel River Viiperi commented on the post with a series of clapping hand emojis and wrote, "But if it only was this…so much more than this…"
"Thank you @jamespscully," wrote Doutzen Kroes.
"Thank you James speak that TRUTH!!!" wrote Jourdan Dunn with her own series of clapping emojis.
"This is everything!!" wrote Duckie Thot.
"Thank you for sharing!" added Helena Christensen. "This is important. People can be such scumbags, selfish, arrogant and pathetic. Keep sharing, girls and keep raising awareness @jamespscully."
Several other models came forward as well to leave simple messages of thanks or supportive emojis. Other industry figures, including designers, modeling agents and makeup artists also left messages. Notably, in a few cases, accounts identifying themselves as the mothers of young models also left their thanks.
Watch W's Most Popular Video: