New York Fashion Week Models Will Finally Have Private Changing Areas
In the wake of the #MeToo movement.
---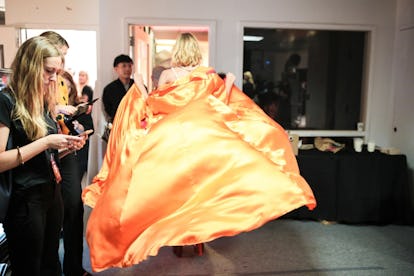 SERICHAI TRAIPOOM
2018 is already shaping up to be a year of changes in the wake of the #MeToo movement — not just in Hollywood. The fashion industry, specifically New York Fashion Week, has also been making adjustments to offer greater protection against sexual abuse. Most recently, that includes a new effort to give models privacy behind the catwalk. The Council of Fashion Designers of America and Model Alliance, an advocacy non-profit, are partnering to finally make private changing areas a requirement during NYFW.
"Models have raised concerns about invasive photography and lack of privacy while changing clothes backstage at New York Fashion Week," Sara Ziff, founder of the Model Alliance, said in a statement as The Cut notes. "Model Alliance takes these concerns seriously and we decided to take additional steps this season to ensure a safe and respectful work environment by providing private changing areas backstage."
Models have been increasingly speaking out about hostile work conditions over the past year. Most recently, Kate Upton came forward with sexual and emotional harassment allegations against Guess co-founder Paul Marciano. "It's disappointing that such an iconic women's brand @GUESS is still empowering Paul Marciano as their creative director #metoo," she wrote on Twitter, before writing on Instagram, "He shouldn't be allowed to use his power in the industry to sexually and emotionally harass women #metoo."
Earlier last month, 15 former and current models spoke out against sexual abuse from photographer Bruce Weber. "I remember him putting his fingers in my mouth, and him grabbing my privates," Robyn Sinclair told The New York Times. "We never had sex or anything, but a lot of things happened. A lot of touching. A lot of molestation." Weber shut down the claims saying, "I'm completely shocked and saddened by the outrageous claims being made against me, which I absolutely deny."
In the same NYT article, 13 models also spoke out against sexual abuse from Mario Testino, claiming the famed photographer had made unwanted sexual advances that included groping and masturbation. Testino also denied the claims saying that other former employees were "shocked by the allegations" and that those employees "could not confirm any of the claims."
One thing is for certain though: There is a definite need for more measures of protection against sexual abuse and emotional abuse in the fashion industry. As designer Rachel Comey recently told Vogue, "We need to create a safe structure for working with the above people, especially young people and models. A code of conduct is not enough if it's not followed. Lastly, it needs to be said that both men and women in our industry need to join the conversation and make the changes."
Related: Balenciaga Cuts Ties with Casting Directors Following Accusations of Model Mistreatment