Meet the Modern Royals
In case you missed them, here are all of W's modern royals.
---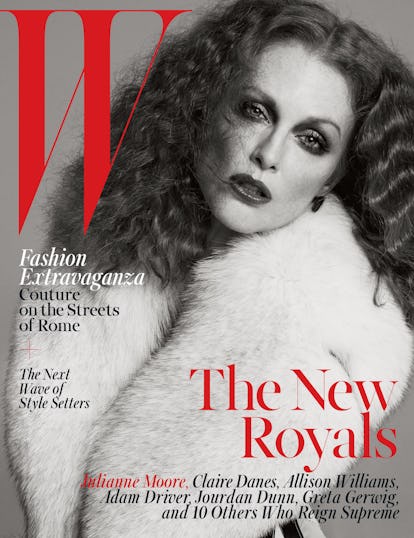 The Royals Indie queen, Pop princess, society doyenne.. long may these rule breakers reign.
Mary J. Blige's Best Red Carpet Moments Whether she's on stage or on the red carpet, Mary J. Blige commands attention. Here, a look back at her most memorable red carpet moments from 1990 to 2001.
Jourdan Dunn Is Runway Royalty Ever since her 2007 catwalk debut, supermodel Jourdan Dunn has ruled the runway. Here, a few of her best moments.
10 Times Julianne Moore Stunned in Red Some fashion rules (like no white after labor day) were made to be broken. Here, W's October issue cover star, the eternally chic redhead Julianne Moore, proves redheads should embrace—not shy away from—all sorts of rosy hues.
The Best of @MaikaMonroe Actress Maika Monroe is more than just a kiteboarder-turned-scream queen—she's also one of the coolest young actresses on Instagram. Do yourself a favor and follow her today—and see a bit of what you've been missing here.
Indre Rockefeller Loves Yellow Socialite and fashion designer Indre Rockefeller manages a packed calendar. But despite her countless travels and engagements, Rockefeller always seems to keep a bright disposition—if her colorful wardrobe is any indication.
Jillian Hervey's Magnificent Mane Singer Jillian Hervey, also known as Lion Babe, channels her stage name with a curly mane that's larger than life. Why so big? It's full of secrets, I mean, singles. Here, her best looks.
Lynn Wyatt: Lady in Red Though a born-and-bred New Yorker, Lynn Wyatt's go-to color is red, not black. While the styles have evolved, the socialite has stayed true to her hue—often opting for lacey details and velvet ensembles for hitting the gallery and gala circuit. Here, 10 of her best crimson numbers.
Julianne Moore's Best Beauty Moments Oscar-winning actress Julianne Moore is more than just a pretty face—but, of course, she is that too. See the W Magazine October 2015 issue cover star's best beauty moments here.
Iman Is Fashion Royalty for a Reason Once an icon, always an icon. See how W's October issue star has transformed over the years.
Allison Williams Goes Strapless Girls star Allison Williams has a prim and proper reputation on-and-off screen. When she chooses to show off her elegant assets, Williams has a tendency towards higher necklines, sheath skirts, and plunging backs. However, her ultimate go-to might be the strapless dress, which she has favored since the beginning. Here, 10 of her best sleeveless ensembles.
Growing Up Curtis As the daughter of power couple Janet Leigh and Tony Curtis, Jamie Lee Curtis grew up attending galas and premieres alongside her famous parents. By the time she was a teenager, Curtis became a celebrity in her own right when she starred in the now classic horror film, Halloween. Here, a look at her life in the limelight.