Celebrity Stylist Monica Rose Shares Her Coachella Tips: Less Is More, Guys
From jorts to fanny packs to crop tops, here's everything you need to know.
---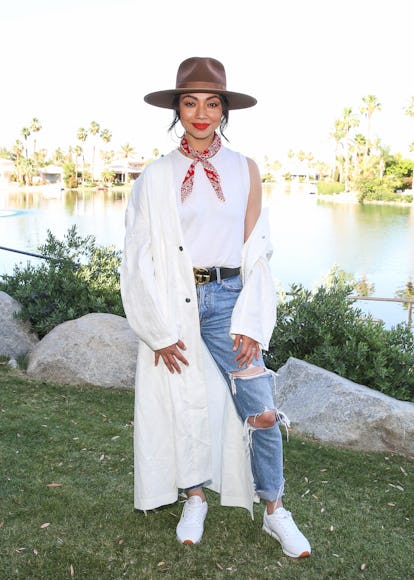 Marc Patrick/BFA.com
Stylist Monica Rose has made a career out of helping celebrities like the Kardashians and Jenners, Crissy Teigen, and Gigi Hadid look and feel like themselves. So it's no surprise that she's a professional when it comes to Coachella, too. Her clients this year included Kaia Gerber and Chanel Iman, both of whom stole the show, but each in their own ways.
"When styling clients for Coachella, it's about tapping into their personalities and what they're into," said Rose on Friday morning at Reebok Classics' Coachella event. It's not: You're going to be boho, you're going to wear fringe and a flower crown."
Rose's mantra is all about keeping it simple, which is not something you normally hear regarding the three-day festival in the desert.
"I always want to do the opposite of what people think Coachella is," she added. "People are so in their heads about what they're going to wear, but just be true to yourself. What is it that you feel comfortable in? What do you like? It's all about your individual style and what story you want to tell. Don't think about it too much. Sometimes less is more. Coachella is only three days, guys!"
If you're going to Coachella this weekend or next year for Beyoncé, take notes.
Coachella 2017: Ranking Celebrities' Festival Looks, From Least Coachella to Most Coachella
Coachella: One shoulder is exposed; a choker. Not Coachella: Essentially everything else. This look is far too formal for the laid back nature of the fest.

Getty Images
Coachella: Easy sundress; hoop earrings. Not Coachella: This ladylike dress reads more church than crowd-surfing. Plus, imagine how dirty it'll get.

Getty Images
Coachella: Relaxed denim; hoop earrings; anklet. Not Coachella: This ensemble is rooted in understated simplicity, which is not very typical of festival fashion.

Getty Images
Coachella: Tinted glasses, abs. Not Coachella: The singer looks ready to workout, not rage to Lorde.

Getty Images
Coachella: Neon hair; ankle boots. Not Coachella: By normal standards, this is Coachella acceptable; but this is Kylie Jenner we're talking about. We expect more.

Getty Images
Coachella: Sneakers; fanny pack; hoop earrings. Not Coachella: There is a case to be made for uniform dressing, but this baggy jumpsuit is another story.

Jerod Harris
Coachella: Baggy t-shirt; floral prints. Not Coachella: The florals read more tropical than festival, and those knee-high boots are not exactly the most practical footwear.

Getty Images
Coachella: A bra as a top; neon sunglasses. Not Coachella: Fur; skinny jeans; heels.

Getty Images
Coachella: Off-the-shoulder; cross-body bag; fashion-y sandals. Not Coachella: It all seems a bit too put together for Coachella.

Getty Images
Coachella: Off-the-shoulder; jorts; sneakers. Not Coachella: Again, this look is a bit subdued for a Jenner at Cochella.

Getty Images
Coachella: Sunglasses; white crochet; ankle boots. Not Coachella: Roberts could have worn this look anywhere in LA.

Getty Images
Coachella: Bright color; slip dress; sunglasses; embellishments. Not Coachella: Heels; leather.

Getty Images
Coachella: Maxi-dress; floppy hat; chain belt. Not Coachella: Like Bosworth, this look is just slightly too put together. But only slightly.

Getty Images
Coachella: Novelty sunglasses; jorts; pink hair. Not Coachella: Not suitable for sitting in the grass.

Getty Images
Coachella: Choker; fringe; gladiator sandals. Not Coachella: Camouflage print miniskirt.

Getty Images
Coachella: Tank tops; jorts; sneakers; fanny pack; bandanas. Not Coachella: This is the quintessential Coachella uniform for the non-famous; give the Riverdale stars one more year and they'll be back with some fringe and floral accessories.

Emma McIntyre
Coachella: Fringe; white crochet; off-the-shoulder. Not Coachella: It's not all that practical, but then again the model is likely only in VIP tents and not lounging on the grass.

Getty Images
Coachella: Romper; off-the-shoulder; floppy hat; pigtails; sunglasses; chokers; ankle boots. Not Coachella: Seems almost a bit too formulaic, no?

Getty Images
Coachella: Flannel; overall shorts; chainmail; face paint. Not Coachella: Knee-high boots.

Getty Images
Coachella: Top knot; tinted glasses; bodychain; sneakers; jorts; extraneous belt; fringe. Not Coachella: The look is very, very color coordinated.

Getty Images
Coachella: Floppy hat; novelty sunglasses; maxi skirt; off-the shoulder; crop top; sneakers. Not Coachella: A choker would have really put this outfit over the edge.

Getty Images
Coachella: Double top knots; hair glitter; bikini as shirt; floral print; loose pants; sneakers; tinted glasses; Nylon backdrop. Not Coachella: Nothing. Congratulations, Delilah Belle, you are the most Coachella celebrity of Coachella 2017.

Getty Images
For how many years have you been doing Coachella?
Maybe four or five?
How do you help your clients go from day to night? It goes from 100-degrees to pretty cold.
Definitely a jacket. Or a thick fabric. I send them with outfit change options.
What should you never wear to Coachella?
No heels.
At W we're very conflicted about jorts. What are your opinions on them?
I'm all about denim shorts. They're kind of a Coachella must.
Do you have go-to vintage stores in L.A. where you pull clothes for Coachella?
I love What Goes Around Comes Around; Recess on La Brea; Jet Rag has a really cool vintage section; and I love the swap meets like Rose Bowl and every Sunday at Fairfax.
Would you ever wear a fanny pack?
Yes! Of course! Fanny packs, backpacks, and cross body bags are all great for Coachella because you're running around and dancing. You're having fun and don't want to worry about carrying a purse. Fanny packs are a must. The vintage Prada ones are coming back.
Preferred Coachella footwear?
Honestly, Reebok's classic leathers are so comfortable. They're Gigi's favorite and I also love a good white sneaker. I don't want to wear sandals because of the dirt, so I wear comfortable sneakers or combat boots. Beat-in some Doc Martens. Just don't wear heels.
What about platforms?
You never want to wear anything high. You're in the desert, so there's rocks and grass; there's no flat ground.
Can a crop top ever be too cropped at Coachella?
Absolutely not; the shorter the better. It depends if you want to show some under-boob or a cool bra underneath.
Coachella Style: 12 Fashion Lessons to Learn from the Music Festival
Take a page out of model Constance Jablonski's style guide and wear a printed shirt dress with casual sneakers this summer.

Photo by Emily Malan.
Coordinating denim with your friends is always a good idea. No matter the occasion.

Photo by Emily Malan.
This bright, sunny ensemble–complete with comfortable footwear–belongs on the streets of New York.

Photo by Emily Malan.
Model Georgia Fowler offered a fresh take on festival dressing by pairing a chic blouse with a sculptural earring and denim shorts. Everyone could learn a thing or two.

Photo by Emily Malan.
A printed blouse and high waisted jeans makes for a cool weekend ensemble.

Photo by Emily Malan.
At Coachella, streetwear looks prevailed. But there's no reason the trend can't dominate outside of the festival, as well.

Photo by Emily Malan.
A pop of bold color, a classic white t-shirt, and a chic Gucci belt looks chic and pulled-together in the desert or in the city.

Photo by Emily Malan.
This safari-meets-sunbathing look is perfect for a beachy getaway.

Photo by Emily Malan.
A Coachella-approved crop top makes for an easy early-summer look when paired with a printed wide-leg pant.

Photo by Emily Malan.
You can't go wrong with a Chanel bag and newsboy cap.

Photo by Emily Malan.
Pair a white skirt with a breezy button-down blouse and minimalist sunglasses for a day in Formentera this summer.

Photo by Emily Malan.
When paired with heavy boots, a long lace dress is a cool option for the desert, upstate New York, or the English countryside.

Photo by Emily Malan.
What are your favorite Coachella accessories?
Scarves, statement necklaces, hats, and belts.
Do you wear jewelry ever?
I wore bracelets one year and I lost them all. They were really cool vintage ones and I was really upset, so I just don't do rings or bracelets because you're on the go constantly and it doesn't work.
Where do you get your hats?
I do a lot of vintage hat shopping, but Stetson and Brookstone have some really good ones.
Swimwear as clothing, yes or no?
Yes! Absolutely. It's so okay.
What swimwear brands do you love right now?
Norma Kamali and Eres.
What are some outfit mistakes you've made in past years?
Maybe bootcut jeans or flare jeans that I would just never wear now. I'm also personally not into ruffles.
Related: All the Best Street Style From Coachella 2017
Coachella 2017: Crop Tops, Florals and the Best Street Style From the Ancestral Homeland of Festival Fashion
Watch W's most popular videos, below: