The Kardashians' Split from Stylist Monica Rose Heats Up
Khloe Kardashian is reportedly threatening legal action. So—here's what you missed while transfixed by all the outrageous looks on the Met Gala red carpet.
---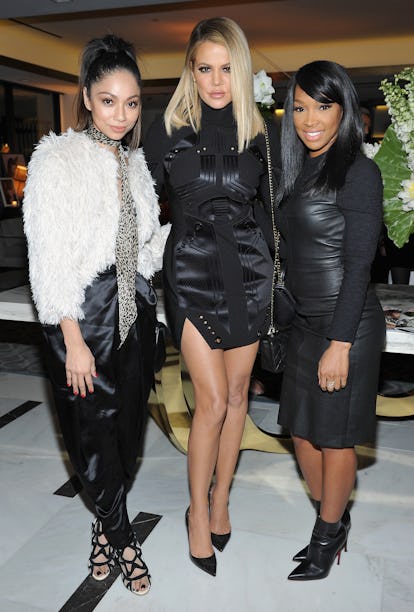 Donato Sardella/Getty Images
Ackermann, Haider
The anti-red-carpet designer has managed to become a favorite of Tilda Swinton, PJ Harvey, and even Janet Jackson. Here's how.
Gala, Met
From Bella Hadid's grand entrance to Jaden Smith's strange, brilliant accessory (depending on your perspective, the Met Gala for the new Rei Kawakubo/Comme des Garçons exhibition was a night of action—and looks. Whether you're catching up up on the red carpet, the non-fashion moments (including Diddy lounging on the steps of the Met), or who actually adhered to the theme, we've got you covered.
Gucci
Creative director Alessandro Michele is wading into fragrance for the first time with the latest addition to the Gucci perfume portfolio with Bloom, which is to be fronted by a few of Michele's favorite ladies: Petra Collins, Hari Nef, and Dakota Johnson.
Petra Collins dreams of sleeping in a room that's one giant bed, with Rihanna for company, if possible:
Minaj, Nicki
Rapper Nicki Minaj has long had an in in the fashion world—she's close friends with Riccardo Tisci, late of Givenchy, and can usually have her pick of designs on the red carpet. She upped her game last month when she signed with Wilhelmina Models' celebrity division, and it's paying off: Legendary fashion photographers Mert Alas and Marcus Piggott shot her latest video, for the track "Regret in Your Tears."
Rose, Monica
The Kardashians' split from longtime stylist Monica Rose seems to be heating up—according to a report by a source close to the family, Khloe Kardashian is ready to sue her former stylist.
Sui, Anna
A new exhibition at London's Fashion and Textile Museum, a new art book, and a new interiors collection—beloved New York designer Anna Sui is in for a big summer.
Gigi Hadid, Bella Hadid, and Kendall Jenner Are Bringing Back the Top Knot
Kendall Jenner backstage at Anna Sui Fall 2017 at New York Fashion Week.

Photo by Nick DeLieto
Gigi Hadid backstage at Anna Sui Fall 2017 at New York Fashion Week.

Photo by Nick DeLieto
Taylor Hill backstage at Anna Sui Fall 2017 at New York Fashion Week.

Photo by Nick DeLieto
Backstage backstage at Anna Sui Fall 2017 at New York Fashion Week.

Photo by Nick DeLieto
Backstage at Anna Sui Fall 2017 at New York Fashion Week.

Photo by Nick DeLieto
Bella Hadid backstage at Anna Sui Fall 2017 at New York Fashion Week.

Photo by Nick DeLieto
Backstage at Anna Sui Fall 2017 at New York Fashion Week.

Photo by Nick DeLieto
Backstage at Anna Sui Fall 2017 at New York Fashion Week.

Photo by Nick DeLieto
Joel Wolfe backstage at Anna Sui Fall 2017 at New York Fashion Week.

Photo by Nick DeLieto
Hanne Gaby Odiele backstage at Anna Sui Fall 2017 at New York Fashion Week.

Photo by Nick DeLieto
Backstage at Anna Sui Fall 2017 at New York Fashion Week.

Photo by Nick DeLieto
Dilone backstage at Anna Sui Fall 2017 at New York Fashion Week.

Photo by Nick DeLieto
Backstage at Anna Sui Fall 2017 at New York Fashion Week.

Photo by Nick DeLieto
Kiki Willems backstage at Anna Sui Fall 2017 at New York Fashion Week.

Photo by Nick DeLieto
Radhika Nair backstage at Anna Sui Fall 2017 at New York Fashion Week.

Photo by Nick DeLieto
Backstage at Anna Sui Fall 2017 at New York Fashion Week.

Photo by Nick DeLieto
Hayett McCarthy backstage at Anna Sui Fall 2017 at New York Fashion Week.

Photo by Nick DeLieto
Kendall Jenner backstage at Anna Sui Fall 2017 at New York Fashion Week.

Photo by Nick DeLieto
Backstage at Anna Sui Fall 2017 at New York Fashion Week.

Photo by Nick DeLieto
Taylor Hill backstage at Anna Sui Fall 2017 at New York Fashion Week.

Photo by Nick DeLieto
Cong He backstage at Anna Sui Fall 2017 at New York Fashion Week.

Photo by Nick DeLieto
Lexi Boling backstage at Anna Sui Fall 2017 at New York Fashion Week.

Photo by Nick DeLieto
Backstage at Anna Sui Fall 2017 at New York Fashion Week.

Photo by Nick DeLieto
Willow Hand backstage at Anna Sui Fall 2017 at New York Fashion Week.

Photo by Nick DeLieto
Backstage at Anna Sui Fall 2017 at New York Fashion Week.

Photo by Nick DeLieto
Hanne Gaby Odiele backstage at Anna Sui Fall 2017 at New York Fashion Week.

Photo by Nick DeLieto
Zhengyang Zhang backstage at Anna Sui Fall 2017 at New York Fashion Week.

Photo by Nick DeLieto
Backstage at Anna Sui Fall 2017 at New York Fashion Week.

Photo by Nick DeLieto
Dilone and Hayett McCarthy backstage at Anna Sui Fall 2017 at New York Fashion Week.

Photo by Nick DeLieto
Lexi Boling backstage at Anna Sui Fall 2017 at New York Fashion Week.

Photo by Nick DeLieto