Monique Péan: 6 Sources of Inspiration
The intrepid jewelry designer shares with W what inspires her.
---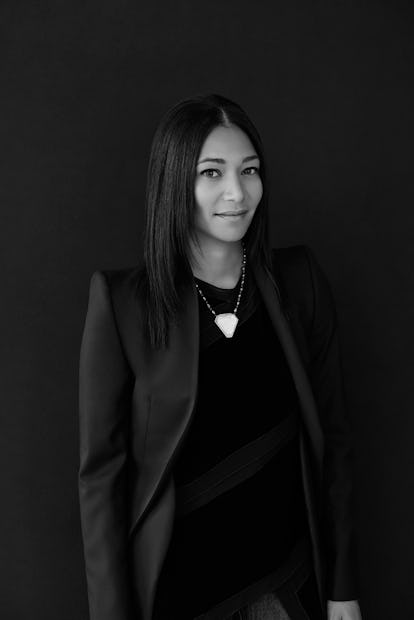 Since launching her sustainable fine-jewelry line in 2006, Monique Péan has traveled from French Polynesia to the jungles of Guatemala in search of rare materials. But then, having grown up with a father who was with the UN and an artist mother who collected indigenous works, she has adventure in her DNA. For her latest collection, the New York designer ventured to Svalbard, a Norwegian archipelago on the Arctic Circle that is home to 2,600 people and just as many polar bears. "We traveled by car for eight hours past frozen waterfalls," she recounts. Here are some more things that have swept her away.
[2,3], by Tauba Auerbach "Tauba went to high school with my husband, and it's been amazing watching her art career grow. I love her pop-up book, which features six unique and beautiful geometric paper sculptures. It's one of my favorite things to give as a gift."
Fasano, Las Piedras "I went to Uruguay last year for New Year's Eve. It was my first time there, and we stayed at this chic Isay Weinfeld–designed hotel on a picturesque estate in La Barra, Punta del Este. It has a beautiful rock pool and the best penne all'arrabbiata I've ever eaten! It's a great base for exploring the region."
Rattlesnake Hill Cabernet Sauvignon "This wine from Barnett Vineyards in St. Helena, California, is so good, it nearly sells out at the winery. If you can, make an appointment for a tour. There are the most incredible views of Napa Valley—and if you're lucky, they'll let you try the wine out of the barrel."
Oslo Opera House "In Norway, I visited this stunning building designed by the architecture firm Snøhetta. It has a white marble exterior with an unbelievable oak interior featuring an array of angles and hidden spaces. It was this juxtaposition of modern architecture and natural landscape that inspired my new collection."
Back to Black Travel Perfume By Kilian "I'm not big on perfume—I find most scents a bit overwhelming. But a good friend gave this one to me, and I've been wearing it ever since. It's very clean, with hints of bergamot."
Spectrolite "I discovered this stone while in Norway, where artisans use a pick and hammer to unearth it. It reflects a range of greens and blues as light moves across its surface—sort of like the breathtaking glaciers I saw in the Arctic Circle. I used it in the new collection as a strong complement to the fossilized woolly mammoth, walrus ivory, and dinosaur bone in many of my pieces."
Photos: Monique Péan: 6 Sources of Inspiration
Monique Péan. Hair by Jamilah Curry for Edris Salon, makeup by Bethany Brill using NARS cosmetics. Photo courtesy of Monique Pean.
Péan's fossilized woolly mammoth, dinosaur bone, and diamond pavé necklace.
Oslo Opera House. Photo by Erik Berg.
Spectrolite. Courtesy of Monique Pean.