Fit to Be Tied
Monse's much-talked-about debut puts a fresh twist on an old classic.
---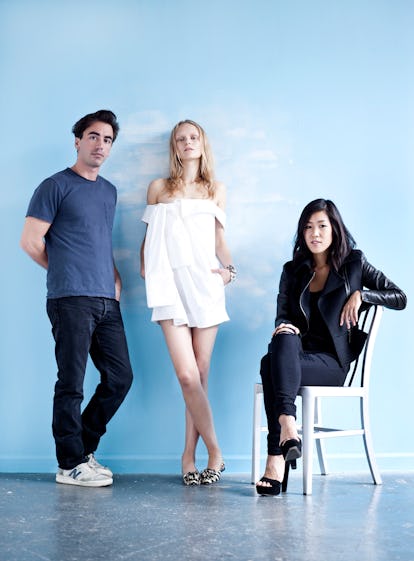 Photographer: Van Sarki Stylist: Vanessa Chow
Before leaving last February to start their own line, Monse, Laura Kim and ­Fernando Garcia spent a cumulative 18 years working for Oscar de la Renta. In that time, Kim, who was offered a job by the designer while she was still a student at New York's Pratt Institute and went on to become his studio director, and Garcia, who studied architecture at the University of Notre Dame, in Indiana, before serving as de la Renta's principal designer, gleaned quite a few lessons from the late fashion legend. Among them: Work together. Color can make a dress. Design clothes to sell. "It was the best education," says Garcia. And it has clearly paid off: Thanks to Amal Clooney and Sarah Jessica Parker, who both sported early Monse designs this past summer, the label had people talking even before the first show. The debut collection, which was unveiled during New York Fashion Week in September, has only intensified the buzz. Refreshingly focused, it was inspired by the classic button-up—an accessible basic that the two reinterpreted in myriad ways. They wrapped sleeves around the shoulders to create a strapless minidress, and twisted the buttons to the side for an asymmetric blouse. Tied taffeta bustiers paired with wide-leg trousers offered an alternative to the ballgown. In less skilled hands, the pieces might have come off as overly complicated. Instead, they appeared fresh, intelligent, and rather sensual. "Women should feel beautiful wearing the clothes," Garcia says. Surely, Oscar would agree.
Hair by Thomas Dunkin for Voce Haircare at BRIDGE; Makeup by Justine Purdue for Dior at Tim Howard Management; fashion assistant: Alban Roger; Model wears Monse blouse and pants; Seaman Schepps for Monse bracelet. Model wears Monse dress; Seaman Schepps for Monse bracelet; Monse x Mariela Montiel flats. Garcia and Kim wear their own clothing and accessories.