The Monse and Oscar De La Renta Designers Are Making a Bold Move This Season
Plus, meet the new face of Victoria's Secret Pink and the old face of Vivienne Westwood.
---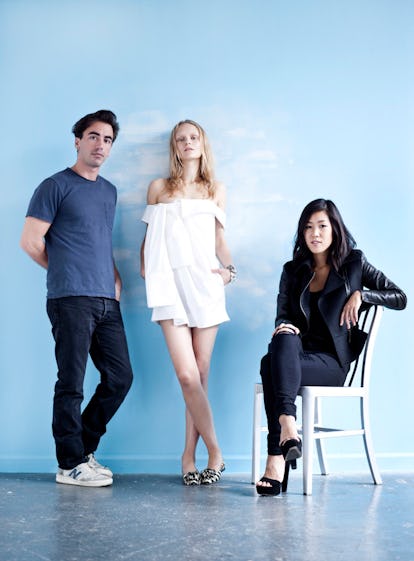 Photo by Van Sarki, styled by Vanessa Chow. Hair by Thomas Dunkin for Voce Haircare at BRIDGE; Makeup by Justine Purdue for Dior at Tim Howard Management; fashion assistant: Alban Roger.
Anderson, Pamela An old friend, and the new face, of Vivienne Westwood.
De La Renta, Oscar; and Monse Fernando Garcia and Laura Kim, the designers behind both Monse and now Oscar De La Renta, will collapse the two brands into one show for their debut at De La Renta. "We wanted to attack it head-on," Garcia told Business of Fashion. Mission accomplished.
Elizabeth, Grace The 19-year-old Florida native is the new face of Victoria's Secret Pink. She'll still make time for bowling amid her new responsibilities.
March on Washington, Women's The day after Donald Trump's inauguration, the single largest demonstration will be a gathering of hundreds of thousands of women in the United States Capital. These are the women bringing it together.
Prada Getting political. In the context of Donald Trump's inauguration this weekend, designers like Prada and Balenciaga are sending subtly political designs down their runway — and Miuccia, rumored to have once been a member of the Communist party, opens up about her particular brand of protest.
Vuitton, Louis Unveiling a collaboration with cult skatewear brand Supreme during its Fall 2017 menswear show.
Winston Wolkoff, Stephanie Formerly a close ally of Vogue's Anna Wintour; now, the woman tasked with directing the Trump inauguration.