From Monse to Prada, Everyone's Gearing Up Before Fashion Week
We're reading the news so you don't have to on this fine Labor Day.
---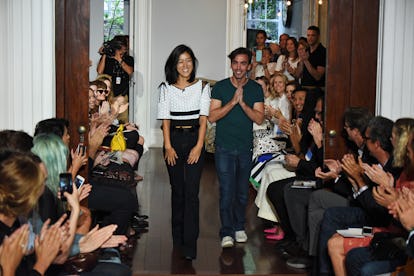 Getty Images
Banks, Tyra Stars in Drake's newest music video, for "Childs Play" — in which the pair get into a fight against no other backdrop than the Cheesecake Factory. Why you gotta fight with me at Cheesecake?
Carrozzini, Francesco Filmmaker, son of Vogue Italia editor Franca Sozzani, and now acclaimed director of a documentary on her life, Franca: Chaos and Creation. He lifted the veil on the production from its premiere at the Venice Film Festival.
Dunham, Lena Found herself at the center of some internet drama when, in a Lenny interview with Amy Schumer, she mentioned she felt slighted by Odell Beckham, Jr., at the Met Gala earlier in the summer. Well, exact words: "He looked at me and he determined I was not the shape of a woman by his standards." Cue internet backlash and a very public Instagram apology — but Twitter hasn't forgotten.
Monse Creative directors Laura Kim and Fernando Garcia are getting a sort of homecoming: They've been named co-creative directors of Oscar De La Renta, filling the positions lately vacated by Peter Copping and returning to the brand where they cut their teeth.
Prada, Miuccia Really, really loves perfume.
Rousteing, Olivier Balmain creative director, Mykonos regular.
Taylor, Teyana Star of Kanye West's "Fade" video — and outspoken abortion access advocate.
Yeezy Season 4 Kanye West issued an open casting call Sunday, requesting makeup-free, "multiracial women only." Here's the scene outside the casting.
Watch W's most popular videos here: