Montauk Regular Fiona Byrne: "Who Needs Pants?"
Decorator and East-ender Fiona Byrne on why pants are overrated and her summer wardrobe tips.
---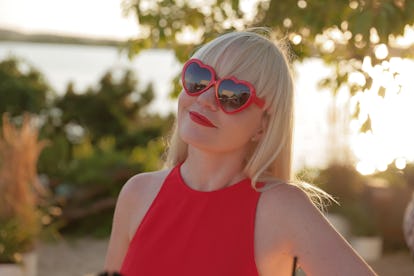 Matteo Prandoni/BFA.com
Fiona Byrne knows a thing or two about beach style—but you'll never catch her on the sand in your basic floral frock. She's spent many a summer in Montauk, and this year, she's created a range of breezy summer clutches with ice cream cone patches with the designer Paige Gamble that may just fit the bill for weekends out East. (They are for sale on the designer's site.) So, how does she manage the particular wardrobe of Long Island's rowdiest hamlet? Is there such a thing as too high-waisted shorts? Are pants always overrated in the summer? Ahead, she talks about that and what she always keeps in her beach bag.
Occupation: Decorator
Three words that describe your style: Red, white and black.
Daily uniform: In the summer, I wear racerback tanks and high-waisted shorts basically every day.
Favorite store in Montauk: Cynthia Rowley is great and now it has a La Ligne pop-up in the back right now, which makes it even better! Plus, there's a swing in the store.
Nighttime look: When I'm in Montauk I wear giant men's T-shirts and silk shorts. You can't see the shorts so at first glance it looks like I have no pants on. Who needs pants! Pants are overrated.
Style icons: Marianne Faithful in Girl on a Motorcycle.
Best recent discovery: Michelle Helene! I saw the Betty dress on Instagram and wore it to Christian Siriano and Brad Walsh's all white wedding this month. I also love Deep Cover vintage on the Lower East Side for 80s and 90s sportswear.
Style pet peeve: When something that was once cool is adopted by the masses. I miss the days when leather biker jackets were indication that you were into indie rock and boys in bands.
Favorite pair of summer sunglasses? I've been wearing the same Karen Walker ones for three or four years. They're busted, but I love them.
Go-to swimwear brand? Calvin Klein is always good for big boobs and I have a Shan Bond girl-style bikini that I'm excited about.
Lusting after: The new all-red Adidas Stan Smith CF model.
What's always in your beach bag: Spray sunscreen (I like Sun Bum SPF 30 or 50), Dr. Jart SPF 50 for the face and on top of that Dr Jart BB Beauty Balm SPF 25, a Beach People roundie towel, Pellegrino, a Vans Mickey Mouse baseball cap, and Vans pool slides
Summer travel essentials: A good weekend tote or duffle, ear plugs, eye mask, a Mophy, and more SPF than you need.
Something you would never wear: Those shorts with the butt cheeks hanging out at the bottom. They are so tacky.
Most prized possession in your closet: Right now I'm enjoying the handbag collection I designed with Paige Gamble. I just love ice cream and the ice cream clutch makes me happy every time I look at it.