Finally! A Guide to Everything Happening in Montauk This Summer
Where to go, what to do, who to see and what to wear in the Hamptons' favored hamlet this season, according to the insiders who live and breath Tauk Time.
---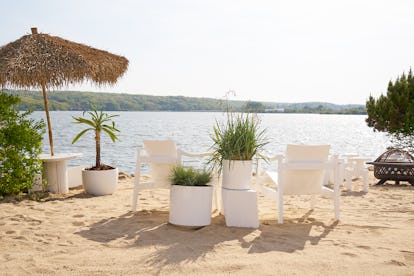 Memorial Day is around the corner and for well-heeled Manhattanites, that means the time has come once again to flock to the Hamptons. Montauk, Long Island's rowdiest beach enclave, has awakened from its winter slumber and will once again be brimming with urbanites in search of sand, sun, lobster rolls, and plenty of rosé. (Fingers crossed there is no shortage of it this year.) Whether you plan to Blade there, or take the Jitney or the Long Island Railroad with the rest of the plebes, here's your primer on what to expect out East this summer. From restaurant openings to hotel makeovers and trusted mainstays, here's the insiders' guide to where to eat, shop, and stay this season, as picked by the those who live and breath Tauk Time.
1. The Surf Lodge has been given an update by interiors stylist Fiona Byrne, who has updated the rooms with beach-y new prints by photographer Gray Malin and furniture by ABC Home and Restoration Hardware. "We are maintaining the open, airy and uncluttered look of all rooms, but adding bright, tropical wallpaper by Walls Need Love in unexpected alcoves, accessories that speak to the natural, beach-y theme of Montauk, including custom built driftwood hanging clothes rails by Brooklyn craftsman Andrew Thomas Hamm," said Byrne.
2. Also at The Surf Lodge: an impressive lineup of fitness gurus, musicians, and artists lined up for the season. Think: Tracy Anderson (trainer to the stars, most notably Gwyneth Paltrow) and Flex Pilates, and artists Nate Lowman (this year's artist in residence at the hotel), Agathe Snow, and Faile.
3. Historic, beachfront Gurney's Montauk Resort & Seawater Spa is feeling more vibrant than ever. Starting Memorial Day and running through Labor Day, the hotel has a new Fashion Collective, a rotating series of pop-up shops featuring brands including Edie Parker, Maje, Rebecca Taylor, Mara Hoffman, and more. (Great for last-minute beach and party looks, since shopping in Montauk is still, in a word, bleak.) Gurney's has also partnered with the wellness firm Wellthily this year for on-property fitness and wellness activities.
4. The famous Duryea's Lobster Deck, a historic Montauk spot for tourists and locals alike for its top-notch lobster rolls, has been bought by private equity mogul Marc Rowan and given a big facelift. Expect the same casual vibe, but an upgraded look and a charming outdoor seating area.
5. Those who take the LIRR train out to Montauk will happy to know that Rowan also bought Ciao by the Beach (minutes from the train station), and is reopening it as a Mediterranean-style bistro named Arbor.
6. Last summer's late night party spot is no more. Harbor – not to be confused with Arbor – a restaurant and bar out towards the infamous Gosman's, brought in big crowds nearly every weekend of the summer last year but it has been shut down. R.I.P Harbor.
7. In Harbor's place on West Lake Drive will be Grey Lady's newest spinoff from owners Callum McLaughlin and Ryan Chadwick. Expect plenty of lobster rolls, chowder, grilled flounder, and more from the New England-style seafood spot. "This season, I'm very excited about Grey Lady, a great raw bar and restaurant with locations in Nantucket, Aspen and the Lower East Side of Manhattan," said Gurney's president George Filopoulos. It is slated to be open Memorial Day weekend.
8. But, a Montauk legend, Shagwong Tavern, is open for business once again under new ownership after closing up shop last summer. "I'm excited that my favorite place, Shagwong, is reopening," said designer Cynthia Rowley. "I love the name. It's a Native American word, but it still sounds very Austin Powers."
9. Plenty of the go-to classics still remain as some of the best options in town. "The Ditch Witch is the first and original Montauk food truck. I love walking with my sons every morning here to keep my ear to the ground with local surfers. I just love this truck," said Guest of a Guest founder Rachelle Hruska MacPherson of the beachside sandwich and snack stand. For lunch, she relies on Navy Beach: "One of the few places in all of the Hamptons where you can actually sink your feet right in the sand while you sip your rosé."
10. And few places do dinner better in Montauk than The Crow's Nest,owned by Hruska's husband, Sean MacPherson. "Of course, I have to include our labor of love. It's our extended living room, I'm literally am counting down the days until we open," she said. Filopoulos, when not dining at his own Gurney's eateries, is also a big fan of The Crow's Nest. "My regular spots include Inlet Seafood(they offer great sushi while watching boats come in and out of Montauk Harbor) and Crow's Nest, where we love to sit outside while the kids play on the beautiful lawn leading to a really cool beach on Montauk Lake."
11. Cynthia Rowley has added La Ligne (the new stripe-heavy label by Valerie Boster, Meredith Melling, and Molly Howard) and Loquet (the British charm jewelry brand) to her quaint boutique on Montauk Highway.
12. For local souvenirs and newspapers, however, Rowley relies on Martell's. "I love Martell's, an old Montauk novelty shop where you can buy the newspaper, fill your tank up with gas, or pick up local souvenirs that feel like they've been in stock since the '70s," she said.
13. Hruska, for her part, recommends Melet Mercantile's Montauk outpost at the Crow's Nest for vintage treasures. "Bob Melet's Montauk outpost in an old garage is probably the grooviest place on the planet," she said. She also likes Martine and Juan, "a new-ish vintage store that opened on Main Street and the fabulously understated chic couple that owns it. I bought a vintage Versace accordion skirt here last summer and wore it for literally six days straight this fall."
14. For its worldly collection of handcrafted, artisanal goods, Hruska relies on Share With on Main Street. "The chicest store in all of the Hamptons in my opinion. It's amazingly well-curated—I love it and the beautiful French owner."
15. Down the street, there's Finn Jewelry shop at the infamous Memory Motel. "Go to peep out the iconic hotel but leave with a serious piece of gold plated bad ass-ness that you will treasure forever," Hruska said of the gold-plated shark tooth necklaces.
Photos: Finally! A Guide to Everything Happening in Montauk This Summer
The Surf Lodge. Photo by Douglas Lyle Thompson.
Gurney's Montauk Resort & Seawater Spa.
The Surf Lodge. Photo by Douglas Lyle Thompson.
Cynthia Rowley's boutique.
The Surf Lodge. Photo by Douglas Lyle Thompson.
The Surf Lodge. Photo by Douglas Lyle Thompson
The Surf Lodge. Photo by Douglas Lyle Thompson.