Moonlight and Best in Show: W Editors Pick Their Favorite Films
For this week's edition of W Movie Club, senior news editor Kyle Munzenrieder picks his preferred films to watch now.
---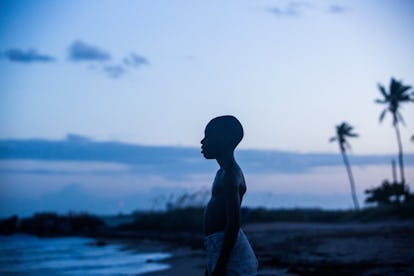 David Bornfriend
Welcome to the W Movie Club, a new series in which W magazine's editors pick five iconic films to watch while in quarantine. This week, senior news editor Kyle Munzenrieder shares some of his favorites. They're mostly high-wire productions, only barely held together by the convictions of their creators.
You Were Never Really Here
Two hot takes: 1) The real tragedy of Joaquin Phoenix winning the Oscar for Joker is that he should have won it for this film instead (he took home the equivalent award for this performance at Cannes after all). 2) I am willing to bet that before creating The Mandalorian, Jon Favreau saw this film and thought "Okay, but what if it was PG and with some Boba Fett-guy instead?"
Phoenix stars as a veteran struggling with PTSD who has taken a job as a hitman with a strict moral code: he only goes after sex offenders. His latest assignment tasks him with recovering the trafficked daughter of a powerful New York State Senator, but uncovers a web of corruption that goes far deeper than he suspects. Director Lynne Ramsay masterfully manages to fit so much texture into a disciplined 95 minutes, and never goes full Grimdark despite the subject matter. She never loses touch with the humanity of Phoenix's character or the girl he's trying to protect. While the film can get brutal at times, it is perhaps not a spoiler to say it ends on a generally touching moment.
Best in Show
By this point, I know Jennifer Coolidge's "We both love soup" improvised monologue pretty much by heart, but her delivery of, "We could talk or not talk forever, but still find things to not talk about" still cracks me up after twenty years. It's just one of several eternal joys of Christopher Guest's classic. Set at a prestigious pedigree dog show, Guest instead turns his attention to the canine's cooky owners in a cringe comedy style that presaged television comedy classics like The Office and Kath & Kim. In addition to Coolidge, you'll also find Parker Posey as a pitch perfect yuppie stereotype, Catherine O'Hara and Eugene Levy playing married long before Schitt's Creek, and a career-defining turn as the show's color commentator from national treasure Fred Willard.
Is it any surprise that the creators of Netflix sensation Tiger King have admitted they used the film as a reference point in crafting their own tale?
Faces
I'm 17 years old and obsessed with Kathleen Hanna's electropunk band Le Tigre, and I could only listen to their song "What's Yr Take on Cassavetes?" before deciding that I guess I really, really did need to develop my own take on Cassavetes. I'm still working that out, but I do (almost self-consciously) truly love his breakthrough film Faces. The film gets caught up in, and to a degree lost in so much academia, discourse and history (it's technically viewed as the birth of American independent cinema, or whatever), that the fact it's just a simple and effective character study of an empty marriage in decline gets lost. Like, if you wish Noah Baumbach's Marriage Story focused less on the longview on a decision to divorce and instead just showed us the exact moments where the marriage breaks down (along with a more stinging view of the particular couple's class status), Faces is the film for you. John Marley plays a midlevel, middle-aged studio exec, Lynn Carlin plays the housewife who's grown wary of the stasis, and then there's (heart flutter) Gena Rowlands as the good-time girl who decidedly is a lot more than a heart of gold. Is it better to trade in joy and excitement for comfort, status and security or to be young and live free? The film doesn't offer much of an answer other than the fact that we all have to get up in the morning, deal with the choices we made the night before, and get on with it.
Irma Vep
Maggie Cheung is probably one of the biggest international big screen icons of the past thirty years that your average American has never heard of (the actress, now retired, apparently preferred it that way, taking up residence in New York and enjoying the anonymity). So it's sort of ironic that one of her few English-language roles finds her playing a fictionalized version of herself coming to the west for the leading role in an action film (albeit, in this case a sort of ill-conceived and very French action film). Created by director Olivier Assayas (known best internationally as the man who proved Kristen Stewart can act) a very of-the-moment critique of French cinema of the '90s, the film still holds up largely thanks to Cheung's performance as an outsider caught up in an unfamiliar and often silly culture.
I'd be lying if I didn't say the scene where she has a Sonic Youth-soundtracked freakout while confined to her rather small hotel room and decides she needs to break out hasn't been playing on a loop in my mind while in lockdown.
Pair with Sofia Coppola's Lost in Translation for riffs on similar themes, or with Cheung and Assayas's second collaboration Clean (with the knowledge that the director and the star were briefly married and divorced between the production of the two films).
Moonlight
Miami is a city easily and often stereotyped by popular culture. It is also one I was born not too far from (geographically, anyway), and called home for twelve years.
Co-author Tarell Alvin McCraney and director Barry Jenkins had long been tipped as promising favored sons by the Miami cultural cognoscenti (which, yes, exists, thank you). McCraney was already a star in the theater world beyond the city's bounds, and Jenkins was a promising director. His previous short film Chlorophyl stars non-actor friends and acquaintances of mine and manages to capture a little time capsule of our particular slice of the city at a certain time.
Moonlight largely takes place in a part of the city that belongs to McCraney and Jenkins and I cannot call my own, yet is distinctly Miami. By the time I saw it for myself, I had only been in New York for a few months and was in the middle of experience my first real winter at all. The film's visuals warmed me and captured the region like no film before: the orange glint of street lights in certain neighborhoods, the look of a beach as a storm rolls in, the heaviness of the humidity captured in every frame.
The response to the film was beyond anything anyone could have predicted, yet I wonder if some aspects of the film's significance was still lost on international critics. This wasn't a movie that just happened to be set in Miami, but one that could only be set there.