C'est la Beach!
Morgan Curtis, the designer of Solid & Striped, shares her inspirations.
---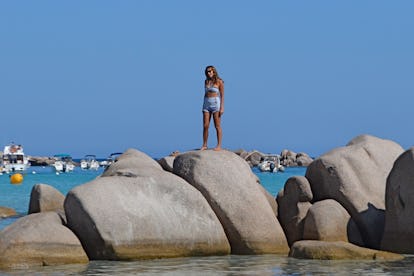 What is your favorite beach? Santa Giulia in Corsica. I love how shallow and crystal blue the water is. There are also gorgeous rocks that you can climb on and the sand feels like powder. I went there with my boyfriend and it was special because it was very hard to get to, we felt like it was our little discovery.
How does it inspire your work? The colors of the beach match the palette for Solid & Striped—pale ocean blue, white, and a little bit of red. The people there on holiday are also inspiring; I love all of their pastel towels and white bathing suits. Even the ice cream store is blue and white striped on the exterior. It looks like it hasn't changed since the 1950s!
What's your secret travel tip? Stay at Casa del Mar—it's a dream! What do you always bring with you?I collect brightly colored beach towels that are woven cotton on one side and terry cloth on the other, with tassel edges. Men often sell them by the beach on European islands. My favorite sandals are white snakeskin by Ancient Greek—they look great with the new Solid & Striped v-dress. I love Lancaster beauty products and I always use a large vintage straw beach bag to carry my watercolors and sketchbook.