Morgane Polanski Was Born For Her Close Up
The budding actress, Marc Jacobs model, and daughter of Roman Polanksi and Emmanuelle Seigner got an early start in the movies and she's still going strong.
---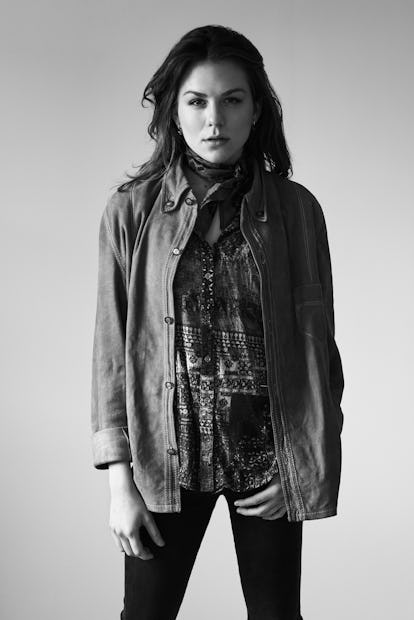 Morgane Polanski can't remember a time when she didn't know her way around a movie set. "I grew up on them," says the 23-year old daughter of the director Roman Polanski and the French singer-actress Emmanuelle Seigner. Morgane was all of eight years old when she appeared onscreen in The Pianist, the 2002 Holocaust drama that won her father Oscars for Best Picture and Best Director. In the film, she could be seen crying onscreen in the Warsaw ghetto. To the layman, this might seem like a prestigious first IMDb entry, but it occurs to Morgane that it might also be a case of unfulfilled cronyism.
"He just kept giving me glorified extra parts!" she says.
Not that she had trouble finding starring roles for herself. After her father took her to Vienna, where he was shooting a musical adaptation of The Fearless Vampire Killers, Morgane, who now splits her time between the family home in Paris and a London flat, returned to Paris determined to stage her own version.
"I somehow managed to brainwash all my friends into doing it," she recalls. A rehearsal was held at her apartment — full dress, complete with blood squibs pilfered from her father's set for maximum splatter. She put a lot of pressure on her indentured cast: When they couldn't remember their blocking, or their lines, she yelled at them, Morgane grew so frustrated she physically struck them. (Is there no actors' guild in France?) Never mind that she was four years old.
"My mom said, 'You can't do that!'" Morgane recalls. "I was very authoritaire" — which is French apparently for "boss bitch."
Eventually, she suspects, she will follow her genetic predisposition to the director's chair, but she's happy learning to take instruction at the moment.
Right now, she is starring on the History channel drama Vikings, where she plays the granddaughter of Charlemagne. And she can be seen opposite her own mother in the Marc Jacobs spring campaign, wearing a striped suit worthy of Bowie.
"I remember my first speaking part," Morgane says. "It was opposite Ewan MacGregor, when my dad was making The Ghost Writer. The day before, I was like, 'Okay, tomorrow is my first real day. If I really enjoy this, then acting is what I'm going to do; if I don't, then I won't.' And by the end, I was messing up takes just because I didn't want the day to end!" She says, laughing.
"I just felt so comfortable in front of the camera."
Hair and Makeup by Ellie Tobin. Produced by Biel Parklee.